This is something I do annually before the start of each season. I just wanted to put it one here to see what others think about it. It took me about a hour to put together.



Hurricanes 2007
Pre-Season Forecast




After the surprisingly slow season of 2006 the next hurricane season is just around the corner. Recently, tropical weather has dominated the news and people's lives after the unforgiving torments of the 2004 and 2005 hurricane seasons. The combined total of those two seasons brought forty three named storms, twenty three hurricanes, thirteen major hurricanes, and nearly 200 billion dollars in damage. Thankfully, the 2006 hurricane season offered a break with only three landfalling storms, none of which were hurricanes. However, this recent slowdown in activity may be eclipsed by yet another active season. As we enter the 2007 hurricane season meteorologists will not be the only ones put to the test this time around but government officials again too. After the fiasco that was Hurricane Katrina response and so many major hurricane landfalls, hurricanes have become major politics. With meteorologists armed with better technology and politicians on standby America is now ready for what may be a very interesting season. However, are its citizens? Now that the 2007 season is ready to begin it looks like everyone will be put to the test with what could be a "very active season."


The Current Forecast

Each year at the beginning of December, after the each hurricane season ends, Colorado State University's (CSU) Dr. William Grey and Philip Klotzbach along with a team of meteorologists make a pre-season forecast of the upcoming hurricane season. Based on a number of factors the team calculated that the 2007 hurricane season would be very active compared to 2006. The team predicted that there would be fourteen named storms, seven hurricanes, and three major hurricanes. Keep in mind that the average amount of storms per season is ten storms and the record is twenty eight from 2005. The group also predicted that there was a 64% chance of one major hurricane striking the mainland United States in 2007. This prediction was based on historical records and trends. As the season drew closer the CSU team made another prediction as well as National Oceanic and Atmospheric Administration's (NOAA) National Hurricane Center. Klotzbach's team saw a change in the models and elements for the 2007 season to make them upgrade the forecast to seventeen named storms, nine hurricanes, and five major hurricanes. The team also upped the chances to 74% that a major hurricane would impact the United States. This would put the season in the ballpark of severity of the 2004 hurricane season. NOAA also has calculated that chances are great for a very active season as well but hasn't released their outlook as of yet.


2006 v. 2007

Some may be wondering just why experts already think the 2007 hurricane season will be worse than the 2006 and why the 2006 season, which was predicted to very active as well, only made a dent in hurricane activity compared to past hurricane seasons. Here are some answers. One reason the CSU team predicted the 2006 hurricane to be so active was due to the fact a La Nina was to set to develop in the Pacific. A La Nina is the opposite of El Nino and is a cooling of the Pacific Ocean off the west coast of South America. La Ninas weaken high-level westerly winds or shift them to flow eastward. These high-level westerly winds are responsible for disrupting hurricane formation by blowing off the storm's top or shearing the storm apart. With calmer westerly winds the hurricanes are able to expand and grow in power. Westerly winds act strongly against the hurricanes during an El Nino. However, the El Nino held intact and the La Nina never set in the 2006 season. Sea surface pressure and westerly winds held strong limiting the number of storms. Thus, the pre-season forecast was a bust due to the lingering El Nino. Now in present day, the 2007 season has the same setup as 2006 did so that is why the CSU team was conservative in their December outlook. They were expecting the El Nino to dissipate but they could not be sure, however that changed in April when El Nino conditions fell apart rapidly and the team was positive that the La Nina was setting in. Another factor was sea surface temperatures were already above average compared to the long term averages across the Atlantic. With these conditions in place the right ingredients are available for many storms and a few long tracked, violent hurricanes.


New Situations

When the 2006 hurricane season ended it left behind one of the least active hurricane seasons in nearly a decade and the first hurricane season not to have a landfalling hurricane in sixteen years, though the 2006 hurricane season did leave some interesting situations. One was that after seven years of service, National Hurricane Center Director Max Mayfield retired in January. Mayfield left behind thirty four years of service at NOAA but indicated he was ready to get some rest. The experience Mayfield had of hurricanes and his leadership was missed greatly at the NHC but somebody had to fill position. That person became meteorologist Bill Proenza on January 4th. Proenza now had to provide excellent conduct and leadership in the wake of the next big hurricane season. Also Proenza had to focus on the major problem of "lack of readiness" that the 2006 hurricane season left behind to all coastal dwelling citizens. After a batched forecast and many false alarms from what many thought were going to be major hurricanes Chris and Ernesto, the public became very distrustful of meteorologists. Meteorologists fear a failed forecast more than any other scenario especially one that requires evacuation or panic. With a slow hurricane season combined with failed forecasts, when potentially dangerous storms threatened, the public has become weary and may not be ready to act the next time a hurricane comes around. Thankfully, Proenza, along with NOAA, has launched a campaign to prepare residents of hurricane awareness, readiness, and safety. This is an important step of winning the population's trust in advance of this season and will in turn save lives.


My Forecast

Now for the final part of my pre-season report I will predict what I think will occur during the next six months. Based on historical evidence, current and past trends, and a little advice from the current forecasts I feel that this will indeed be an above average season. My current projection is there will be fifteen named storms, eight hurricanes, and three major hurricanes. I feel that the La Nina will be fully established in late June/early July and water temperatures will hold in the mid eighties across the Atlantic. In my opinion the main threat for an impact of a storm or hurricane from the early to middle part of the season will be the eastern Gulf of Mexico or Texas coast. Water temperatures are already warm enough to support a tropical system so be ready for a possible June hurricane. The later part of the hurricane season will threaten the east coast, from Miami to Long Island. My main area of concern is South Carolina. That area has not seen a major hurricane impact since Hugo in 1989 and in my opinion is "long overdue." They have also escaped major impacts from Fran, Floyd, and Isabel over recent years but if the Bermuda High catches a storm just right then South Carolina's luck will run out. These are all of course just predictions and in no way a certainty.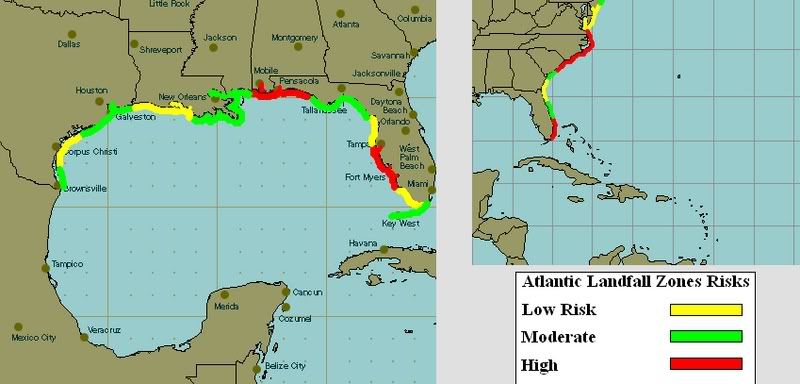 A Final Note

Every hurricane season is different and nobody can accurately predict what will happen or where it will occur. It is just important that everyone be ready and prepare for the worst case scenario. The 2006 season taught us that just because a season is foretasted to be fierce and active it can be calm and tranquil; a lesson the 2007 season may yet teach us as well. Whether or not the 2007 hurricane season is active or not it is important to remember that there can be only five storms or twenty in a season but it only takes one to affect a community for a lifetime. Just ask folks who lived in Dade County, Florida in 1992 or Gulfport, Mississippi in 2005. Remember be smart, be safe, and be ready because the next killer could be a tropical depression away. I'm Andrew Starnes and the 2007 hurricane season begins in less than one month, ready or not.