Tropical Storm Isidore spent most of the day completing a cyclonic wobble over the Yucatan but in the past couple of hours he hints at a northeast movement. The overall cloud structure has changed from an east-west orientation to a north-south orientation - which tells me that an eventual movement to the north may slowly get underway. The convective core is long gone and should the cyclone finally get back into the Gulf - and I think that it will - it will take awhile for that core to rebuild. Remember, over water the storm develops the CDO as it grows in intensity. Low pressure doesn't mean instant success - it just means that the system has a better chance of success in the rebuilding process. Isidore may only grow to a shadow of his former self, especially if he starts to speed up, but Cat II certainly seems reasonable. Fast moving tropical cyclones seldom intensify much.

Where will Isidore go? Who knows! Probably further east than originally projected - the atmosphere has changed a bit since Izzy first made landfall. Speaking of projections, the landfall certainly wasn't (except for a crazy looking GFDL run which we all ignored). My point is that the models are not the gospel - they certainly missed the southward movement - use them cautiously and listen closely to your local met office or your local broadcast met that you trust (unsolicited plug for Greg and Jason

) Why hasn't Isidore moved? Easy - zero steering currents. The total circulation envelope of the cyclone is so huge that the only current currents (ah, what a double!) are the cyclones' circulation itself. If it's own upper air pattern alters enough it will likely start an eventual movement to the north - if not, well tropical cyclones do meet their demise over land.

Tropical Storm Lili - finally! Actually I've had this system at tropical storm strength since about 2pm yesterday afternoon. NHC may have been a little too cautious with this system. Satellite imagery said 'TS', and since a TD was already underway, you can't always wait on an aircraft report - but enough of that. From a meteorological perspective Lili looks like she has gotten her act together. What scares me is that my 72 hour position and the NHC 72hr position match - exactly! St Lucia is next in her sights (one of my favorite Caribbean islands - worth going to if you get a chance).

Where will Lili go? So far, this one is a lot easier than Isidore. Clips Haiti - crosses Cuba - pay attention in south Florida. If it moves further west, then Jamaica could get hit again - they sure don't need that - crosses western Cuba - pay attention in southwest Florida. Expect Lili to reach hurricane strength within 24 hours, and nothing much to weaken it until it hits Cuba. Right now it looks like Puerto Rico is okay, but that does not mean to ignore it. This is a bit of a stretch (timewise), but probably a Sunday event for Florida - more track details later on in the Storm Forum. Keep in mind that Kyle is part of the steering problem. As he slowly intensifies and drifts southwestward, his circulation is helping to reinforce the ridge to his southwest - not much, but a little.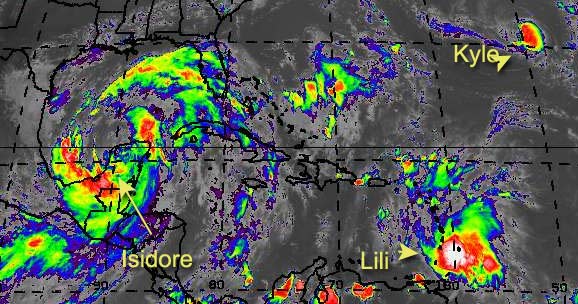 If you live along the Gulf coast or the Southeast coast, keep your eyes on this dynamic duo.

Cancun, Mexico Radar

NRL Monterey Marine Meteorology Division Forecast Track of Active Systems (Good Forecast Track Graphic and Satellite Photos)

NASA GHCC Interactive Satellite images at:
North Atlantic Visible (Daytime Only), Infrared, Water Vapor

Some forecast models:
NGM, AVN, MRF, ETA ECMWF

DoD Weather Models (NOGAPS, AVN, MRF)
AVN, ECMWF, GFDL, MM5, NOGAPS, UKMET

Multi-model plots from WREL

Other commentary at Mike Anderson's East Coast Tropical Weather Center, Robert Lightbown/Crown Weather Tropical Update Accuweather's Joe Bastardi, Hurricane City Weather Audio Broadcast Network - Live Audio from Jim Williams and Barometer Bob , mpittweather , Tropical Weather Watchers.Com (JasonM) Gary Gray's Millennium Weather, Barometer Bob's Hurricane Hollow, Snonut, Ed Dunham and Jason M in our Storm Forum Even more on the links page.

- [ Ed Dunham ]