Tropical Storm Ana Makes Landfall Near Myrtle Beach
Sunday, May 10 - 11AM Update EDT
At 10/10Z, Tropical Storm Ana made landfall just north of Myrtle Beach, South Carolina, as a minimum strength tropical storm. Gusts to 45mph were noted at Kure Beach, North Carolina and 38mph at North Myrtle Beach, South Carolina. Ana is moving slowly to the north and should move to the north northeast at a faster forward speed and weaken to a Tropical Depression later today.
A Tropical Storm Warning is in effect for...
* Little River Inlet South Carolina to Surf City North Carolina
Cooler shelf water SSTs stabilized the lower atmosphere and prevented the stronger winds aloft from reaching the surface - a good turn of events since convection actually improved prior to landfall.
ED
Saturday, May 9 5AM Update EDT
Ana has made the transition into a Tropical Storm. Maximum sustained winds are estimated to still be near 60MPH, with higher gusts. Tropical storm force winds extend up to 125 miles from the center.
Ciel
Friday, May 8 11PM Update EDT
As of the 11PM Friday, May 8 Advisory, Ana is now a strong 60MPH Subtropical Storm. While increasingly looking tropical, she's not quite there just yet.
While it is possible that if/when Ana does make more of a thorough tropical transition these maximum sustained winds could actually come down a bit, those potentially impacted by Ana might be prudent to prepare for the risk that the storm could impact the Carolinas and nearby coastal regions more than originally advertised.
Ciel
Thursday, May 7 11PM Update EDT
Just a quick update to point out that 90L has been upgraded to Subtropical Storm Ana. Intensity is set to 40 knots and the storm is currently projected to drift to the NNW and intensify slightly before approaching land. At this point People near Savannah, Georgia all the way up to the outer banks of North Carolina should keep a close eye on Ana.
Tropical Storm watches are up from Edisto Beach, SC to Cape Lookout, NC.
Ana Event Related Links

Animated Skeetobite Model Plot of Ana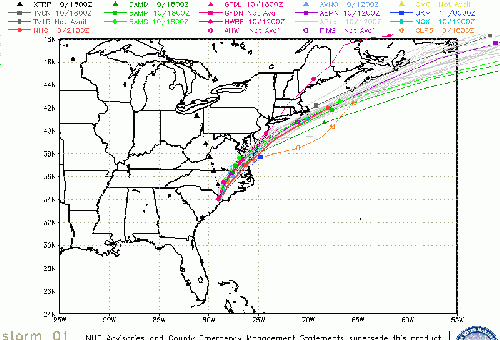 SFWMD Model Plot (Animated Model Plot) SFWMD Hurricane Page
Clark Evans Track Model Plot of Ana (Animated!) Model Plots in Google Earth - In Google Maps
Clark Evans Intensity Model Plot of Ana (Animated!)
Clark Evans Top 10 Analog Storms for Ana
More model runs on from RAL/Jonathan Vigh's page
NRL Info on Ana -- RAMMB Info

Floater Satellite Images: Visible (Loop), IR (Loop), WV (Loop), Dvorak (Loop), AVN (Loop), RGB (Loop), Rainbow (Loop), Funktop (Loop), RB Top Loop)


Wednesday, May 6 8AM Update EDT

The area that's been watched is now a weak low pressure area north of the Bahamas and roughly due east of Boca Raton, drifting to the north. It's now being tracked as Invest 90L. The system is pulling a consistent n-ne breeze over Central Florida today.

Some showers will likely move onshore, with some of it heavier along the coast, and light sprinkles and minor rain more inland.

Winds will probably gust to 25-30 mph along the coast, probably Brevard northward. Not a good beach or boating day.

Recon is scheduled to fly out this afternoon to check on the system, and it may develop late tonight or tomorrow. Those along the southeastern coast, particularly South and North Carolina, may see the most from the system. It likely will be primarily a rain and coastal event.

Tuesday Update
Rain is beginning to affect south Florida as the system creeps up in chances to develop, models are persistent in bringing a threat to the southeast coast, from North Florida, Georgia, South and North Carolina. With the highest direct impacts to be along the South Carolina and North Carolina.

It will be a nasty next few days along the coast, and the weather will remain windy in Florida (and areas it nears) over the next few days.




90L Event Related Links


Animated Skeetobite Model Plot of 90L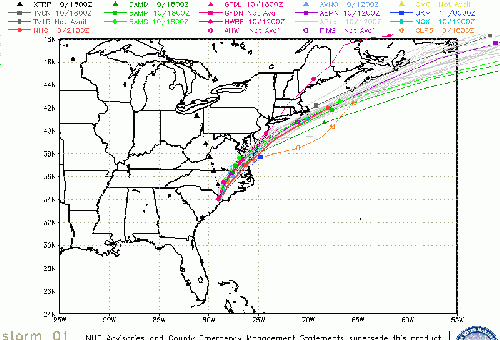 SFWMD Model Plot (Animated Model Plot) SFWMD Hurricane Page
Clark Evans Track Model Plot of 90L (Animated!) Model Plots in Google Earth - In Google Maps
Clark Evans Intensity Model Plot of 90L (Animated!)
Clark Evans Top 10 Analog Storms for 90L
More model runs on from RAL/Jonathan Vigh's page
NRL Info on 90L -- RAMMB Info

Floater Satellite Images: Visible (Loop), IR (Loop), WV (Loop), Dvorak (Loop), AVN (Loop), RGB (Loop), Rainbow (Loop), Funktop (Loop), RB Top Loop)


More updates to come as it closes in.

Original Update
Welcome to early May, and in Florida a very unusually cool and nice May weekend, after a very hot April. The Atlantic Hurricane Season starts June 1st, but the front that passed over to bring the cool weather has stalled, and some models have been persistently projecting a non-tropical low pressure to form off the front, likely near or to the north of the Bahamas. The chances have grown enough for the National Hurricane Center to release a special pre-season Tropical Weather outlook.

This system may have a chance later in the week to develop subtropical characteristics as it drifts toward or just east of the Carolinas for in the May 10-13th time frame. However this far out things are quite uncertain. Although it likely won't be a strong system, the subtropical nature will persist a large wind field that can bring heavy surf along the east coast for the week. Expect a breezy week along the coast until this moves away. This makes the late week and weekend forecasts a bit unreliable.




It's likely the surface low would form sometime mid week, and possibly transition to subtropical after that. It will be worth watching through the week. Those along the southeast coast, Florida through the Carolinas and Virginia will want to keep tabs on this system during the week.

For model talk and more, see the forecast lounge.



Event Links:

Dare County, NC Emergency Management

Eastern Carolinas Power Outage Map (Duke Energy)

Carolina Webcams (roughly south to north)
Myrtle Beach Earthcam
Holden Beach, NC Cam
Wrightsville Beach, NC Cam
Topsail Beach, NC
Emerald Isle, NC Cam
Surf City, NC Pier Cam
Morehead City, NC Harbour Live Cam
Oriental, NC Harbor Cam
Rodanthe, NC Cam
Rodanthe, NC Cam 2 (Beach Live)
Cape Hatteras Lighthouse Cam
Hatteras Island, NC Cam
Multiple Outer Banks Traffic Cameras
Mutiple other Outer Banks Cams
Twiddy's Beach Cam OBX
Kill Devil Hills Pier Cam
Nags Head Cameras

Mark Sudduth from HurricanteTrack will be venturing around the Outer Banks during Ana

Flowing Wind Map

Outer Banks Connection - OBX forum

Carteret County, NC Police/Fire Scanner

Dare County, NC Police/Fire Scanner
Mid-Atlantic/Carolina Links Southeast Composite Radar Loop (Latest Static)
Charleston, SC Radar Long Range Radar Loop ( Latest Static)
Wilmington, NC Radar Long Range Radar Loop ( Latest Static)
Morehead City, NC Radar Long Range Radar Loop ( Latest Static)
Norfolk/Wakefield, VA Radar Long Range Radar Loop ( Latest Static)
Area Forecast Discussions: Charleston, SC - Wilmington, NC - Morehead City, NC - Norfolk/Virginia Beach/Hampton Roads, VA



Flhurricane starts the 20th Year
2015 marks the 20th year flhurricane has been tracking storms, and with a 9 year Florida hurricane drought, we hope we can make it the 10th consecutive season without a landfalling hurricane.

Flhurricane started as an offshoot of the outdoor sportsman BBS in 1995 and quickly became its own entity. The domain name flhurricane happened in 1998, and we started archiving in 1996. We were among some of the first hurricane sites around, and started with the blog/news format in 1996.

To mention some others back then, Jim Williams at Hurricane City was also one of the first internet sites to cover hurricanes nearly exclusively and is also still going strong, Jim started with the real audio broadcasts back when it was new. Some newspapers started forums that splintered off into their own things (storm2k) and others. Some of the others back in the early days were Snonut, Erik Blake from Atlantic Tropical Weather Center (who now works at the National Hurricane Centeri Gary Gray from Millennium Weather was one of the first to bring hurricane models to the masses, including his own Trantech model at the time.. And Jeff Masters/Weather Underground was still forming then.

Since then some other very great authors and sites have come, and a few are still around.

With Katrina and Wilma, 2005 was the busiest year for this site, and that was after the followup from 2004 with the 4 hurricanes that crossed Florida. and we hope to not repeat it. Since then it's been mostly going on our own momentum and gracious donations over the years. It will continue, although the popularity waned a bit, so did the hurricanes, and the time worked on the site.

We also wish to thank all the contributors and moderators over the years!

The 2015 hurricane season starts on June 1st, and runs through November 30th.

More to come this year!


Ed Dunham
2015 Atlantic Hurricane Season
Posted: 03:19 PM 09 April 2015
The CSU initial forecast for Atlantic basin tropical cyclone activity in 2015 has been released with the following lead-in comments: "We anticipate that the 2015 Atlantic basin hurricane season will be one of the least active seasons since the middle of the 20th century. It appears quite likely that an El Niño of at least moderate strength will develop this summer and fall. The tropical and subtropical Atlantic are also quite cool at present. We anticipate a below-average probability for major hurricanes making landfall along the United States coastline and in the Caribbean."
As of the end of February an El Nino is in place and it is expected to increase in strength with at least a moderate El Nino quite likely for the entire Atlantic hurricane season. Some of the forecast models including the ECMWF suggest that a strong El Nino event will occur. Since the end of November, 2014, SSTs in almost all of the Atlantic tropical basin have declined considerably with anomalies greater than -1.5C in some areas in the eastern Atlantic and the western Caribbean Sea. This significant shift downward in tropical Atlantic SSTs will produce another year of decreased activity in the basin and it also reduces the likelihood of any early season storms. The CSU forecast numbers are 7 tropical storms, with 3 of them becoming hurricanes with one hurricane becoming a major storm. This is one of the lowest CSU tropical cyclone forecasts that I have ever seen them issue. They also expected an ACE of 40 and a seasonal activity level at 45% of normal.
CSU lists 1991 as one of their analog years, however, with such a rapid decline in the overall Atlantic tropical SSTs, I believe that 1969 and 1991 are no longer valid analogs. My new analog years are:
1. 1977 - Atlantic activity was 6/5/1 ....... EASTPAC activity was 8/4/0
2. 1959 - Atlantic activity was 10/6/2 ...... EASTPAC activity was 15/5/3
3. 1953 - Atlantic activity was 13/6/4 ...... EASTPAC activity was 4/2/0
The updated averages for these analog years is 10/6/2 - which is close to my current forecast of 9/6/2. (updated on 4/15 to 8/5/1)
TSR also issued its updated forecast for the Atlantic basin and lowered their forecast totals to 11/5/2 with the following comments: "The TSR forecast has been reduced, since early December 2014, due to updated climate signals indicating that the tropical North Atlantic and Caribbean Sea in August-September 2015 will likely be cooler than normal and cooler than thought previously. Should the TSR forecast for 2015 verify it would mean that the ACE index total for 2013-2015 was easily the lowest 3-year total since 1992-1994 and it would imply that the active phase of Atlantic hurricane activity which began in 1995 has likely ended. However, it should be stressed that the precision of hurricane outlooks issued in April is low and that large uncertainties remain for the 2015 hurricane season."
As the season gets underway, keep an eye on the level of activity in the EASTPAC. If it starts to look like the Eastern Pacific is going to have a busy year, then 1953 can be discarded as an analog year for the Atlantic - which means that the upcoming Atlantic hurricane season could be mighty quiet - especially if the tropical Atlantic SST cooling trend continues into the Summer.
Remember that you can post your own forecast of seasonal numbers in the
Storm Forum
until the season starts on June 1st.
ED
General Links
Inside the Eye - Official National Hurricane Center Blog
Skeetobite's storm track maps
NRL-Monterey (Nice Tracking Maps and Satellite)
USNO Information on Current Storms (including Google Earth KMZ Files)
Interactive Wundermap
GFDL
San Jose State Models and More
Animated Earth Wind view of Tropical Atlantic
NOAA Historical Track Maps
- Create your own tracking maps.
Check the
Storm Forum
from time to time for comments on any new developing system.
Follow worldwide SST evolution here:
Global SST Animation
-
SST Forecast
.
Storms From Previous Years (Unisys)
IR
-
Vis
-
WV
-
Loop
-
TWC IR
-
Color IR
-
Loop
-
SSTs
-
Buoy
NASA MSFC North Atlantic Visible (Daytime Only)
,
Infrared
,
Water Vapor
LSU Sat images
,
RAMSDIS Satellite Images (rapid-scan imagery)
Full Western Hemisphere Sat Animation
Buoy Data
,
Dvorak Estimates
Caribbean Weather Observations
Some forecast models:
NHC/TAFB Experimental Gridded Marine Forecast
Multiple model output from Ryan Maue (HWRF, GFDL, GFS, etc)
GFS
,
ECMWF
(
ECMWF
) and
ECMWF
Tropical Tidbits model page (GFS + more)
FSU:
CMC, GFDL, GFS, NOGAPS, HWRF
;
Phase Analysis
DoD Weather Models (NOGAPS, AVN, MRF)
GFS, RUC, ETA
FIM Model
Raleighwx model page
,
Instant Weather Maps Models
Other commentary from
Tropical Tidbits (Levi Cowan)
,
Jeff Masters (Weather Underground)
,
Hurricanetrack.com (Mark Sudduth)
,
Hurricane City (Jim Williams)
,
Mike Watkins / HurricaneAnalytics.com
,
WXRisk
,
TropicalAtlantic
,
Gary Gray's Millennium Weather
,
storm2k
,
Hardcoreweather
,
StormPulse (Matthew Wensing)
, ,
Mike's WX Page
,
Greg Nordstrom
,
Gulf Coast Weather
,
American Weather
-
28 Storms
Ham Weather
,
Suncam TV (Streaming Video/cams)
,
Robert Lightbown/Crown Weather Tropical Update
NOAA Weather Radio
Even more on the links page.