7:00AM CDT Update 25 July 2020
Hanna found to be a hurricane by recon this morning, landfall likely between Corpus Cristi and Brownsville.

Gonzalo still remains very weak.

92L is up to a 60% chance to develop over the next 5 days.]

In Hawaii, Douglas has raised Hurricane watches for the Big Island, Maui, and Oahu.

10:00PM CDT Update 24 July 2020
Tropical Storm Hanna has strengthened to a 65mph Tropical storm tonight, it's likely to become a hurricane sometime tomorrow morning. Although the NHC forecasts a 75 mph hurricane, they note that the peak intensity could be higher than what is
shown since landfall is expected to occur between the 12 and 24 hour forecast times.

Because of this and the slight shift south in position, the Hurricane Warning has been extended southward to Port Mansfield Texas. The Tropical Storm Warning has been extended northward to High Island Texas. The government of Mexico has issued a Tropical Storm Warning north of Barra el Mezquital to the Mouth of Rio Grande.

Those in Texas should prepare for a potent hurricane with serious flooding risks as best they can since this increased more rapidly that originally forecast. Pay attention to local media and officials for the best information for your particular area.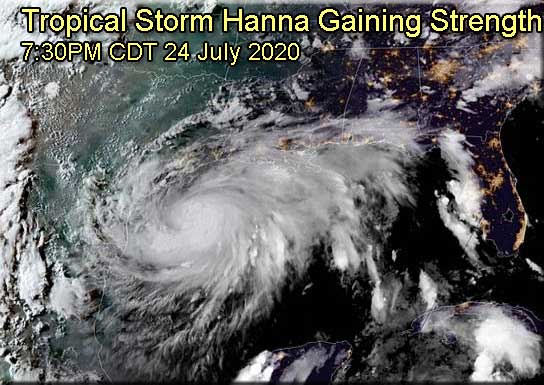 9:00PM CDT Update 24 July 2020
Hanna may be close to becoming a hurricane tonight. Important updates are likely coming soon from NHC. The prospect that Hanna comes in significantly stronger than forecast is now a distinct possibility. One can also follow along with additional information and model talk in the Hanna Forecast Lounge
Ciel

4:30PM CDT Update 24 July 2020
Hanna is now forecast to be a Hurricane at landfall, and Hurricane and Storm Surge Warnings have been issued for portions of the south Texas Coast. With the core appearing better on radar. If you are in the warning area, please be mindful of local media and officials.

A Hurricane Warning has been issued from Baffin Bay northward to Mesquite Bay, Texas.

A Storm Surge Warning has been issued from Baffin Bay to Sargent, Texas, including Corpus Christi Bay, Copano Bay, Aransas Bay, San Antonio Bay and Matagorda Bay.

11AM Update 22 July 2020
SEVEN is rapidly organizing and has become the earliest seventh named storm in the Atlantic on record, besting even 2005's Gert by two days. Gonzalo is a small, compact and well organized system, and as such, may continue to intensify counter to the global models, which all but missed this cyclone entirely. In fact, NHC now calls for further strengthening and for the cyclone to become a hurricane prior to reaching the Windward Islands.

Elsewhere, recon will be flying Invest 91L in the Gulf of Mexico today, which should help with its forecast. As it stands, the disturbance has about even odds of becoming a named storm prior to impacting the western Gulf. Interests especially from Louisiana to Texas may want to pay close attention to this one, as it could be a prolific rain/flood maker.

Ciel

5PM Update 21 July 2020
Invest 99L is now Tropical Depression Seven, it is forecast to remain below hurricane strength, however it's small size means it could rapidly strengthen or weaken over the next few days, so those in the Windwards should keep watch on it.

91L remains in the Gulf, and has a better shot on Thursday to develop, but still remains relatively low. Another wave east of TD#7 will be the next thing to watch, and also a very small area north of Puerto Rico.

Original Update
The system east of the Windward islands of the Caribbean (99L) is now up to an 80% chance for development, and is very likely to become a storm or depression later today. Conditions become much less favorable this weekend, but in the meantime those in the Eastern Caribbean should keep watch. The next name on the list is Gonzalo.

The system has a relatively small size, and that seems to be working in its favor. Dry air nearby would likely weaken it otherwise. Shear later may be what weakens it this weekend, and the small size works against it there.

The other area near Cuba (91L) still has a 40% chance for development and is not currently being tracked as an Invest.

Recon was tentatively scheduled to check the area out later today, but was since cancelled. Those in the northwest gulf should keep watch on this one, as we could have two active tropical systems later this week.

Conditions aren't great for the Cuba system right now, but it is likely that this improves around Thursday.

{{StormCarib}}

{{StormLinks|Gonzalo|7|7|2020|7|Tropical Storm Gonzalo}}
Forecast Lounge and Model Talk on Tropical Storm Gonzalo

{{StormLinks|Hanna|8|8|2020|8|Hanna}}
Forecast Lounge and Model Talk on Hanna in the Gulf of Mexico

Galveston Live Beach Cam
Flhurricane recordings of landfall area radar and webcams

{{TexasGulfRadar}}

Douglas/Hawaii Approach info
{{HawaiiStorm}}

{{StormLinks|92L|92|9|2020|92|Invest 92L (East Atlantic)}}