11:00 PM EDT 14 August 2021 Update
Fred's remnants have increased somewhat overnight, but not enough to reclassify it yet. However, by tomorrow it may regain strength as the upper level trough that's currently keeping it in shear starts to move away and weaken. Tropical Storm Watches and Warnings may start to be issued tomorrow morning along the northern Gulf coast, as the forecast calls for it to reacquire tropical storm conditions midday tomorrow. It has slowed down some overnight to slow as on satellite it has appeared not to move much at all in the last few hours. The center may reform in the 11PM position or slightly elsewhere. Most of the rain and convection would likely stay east of the center. Some of the rain bands are still going through the Keys and Southwest Florida this evening.

Grace is disorganized also and has reformed a bit further north, model guidance even in the short term is very spread out, stronger storm would head north, weaker more west in this particular scenario. If the official forecast holds, it would find significant land interaction over Hispaniola and would likely weaken or even dissipate. If it were to avoid the islands, with any deviations to the north or south, it could intensify more than indicated in the forecast. Similar to what Fred went through. For the islands it mostly means heavy rainfall.

North of Bermuda, 96L has a 30% chance to develop over the next 5 days. Those in Bermuda should keep watch in case it develops. It may impact the future track of Grace as well.

11:30 AM EDT 14 August 2021 Update
Tropical Storm Grace is a little stronger this morning, with 45mph winds, but mixed signals as far as organization. A NOAA Hurricane Hunter Aircraft will be out there later today to get more information from the storm. The future of grace depends on land interaction, but odds favor it to stay fairly weak over the next few days. If it were to approach Florida it would be late in the week next week.

Fred officially has degenerated into an open wave, but is still expected to recover. All Warnings have been dropped in the meantime. There is very little wind or convection west of the center, and it will likely be mostly a limited band rain event for Florida, and parts of southern Alabama and Georgia, but dry air intrusion may limit rainfall in many parts as well.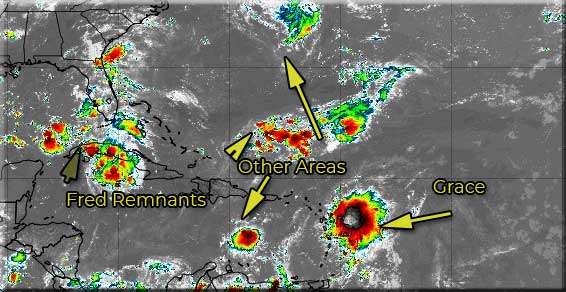 The other areas are interesting, but none are expected to develop.

8:00AM EDT 14 August 2021 Update
The Atlantic contains two weak systems this morning. Fred, which is more like an open wave this morning, is still interacting with Cuba, but expected to restrengthen some. There is very little wind or convection west of the center, and it will likely be mostly a limited band rain event for Florida, and parts of southern Alabama and Georgia, but dry air intrusion may limit rainfall in many parts as well.

Based on the official forecast newly formed Tropical Storm Grace is likely to remain relatively weak, with shearing conditions generally ahead of it and fast motion. How weak depends on how much land interaction there is. With the current official forecast there should be enough to keep Grace generally weak through the track. If there is less land interaction than forecast it could strengthen. It will need to be monitored into the next week.

There are tropical storm warnings up for

A Tropical Storm Warning is in effect for Antigua and Barbuda, Anguilla, St. Kitts, Montserrat, Saba,Sint Eustatius, Saint Maarten, St. Barthelemy, the entire Virgin Islands, and Puerto Rico.

8:30AM EDT 13 August 2021 Update
Tropical Depression Fred remains disorganized this morning, with much of the convection to the south of the center which is just offshore of Cuba's north coast. The official forecast is still for it to become a Tropical Storm sometime today, but this depends mostly on if the shear lets up enough, or if no center reformations (which are a real possibility) happen. The slow forward motion may keep it from strengthening much at all today until it clears it.

Some spotty rain bands may start arriving in parts of South Florida and the keys today through the weekend, and start expanding to the north over time.

95L in the Atlantic has an 80% chance to develop within the next 48 hours, if it does become a depression or storm it would be likely to remain weak through the Caribbean, but could get into better conditions late Sunday or Monday.

Read/Report on Fred related conditions in your area here

5AM EDT 13 August 2021 Update
On a relative basis, Fred and 95L are much better organized than they were 24 hours ago. Still, both systems continue to be smacked by modest shear, and Fred also continues to experience interruptions from land interaction and obstruction which is expected to continue throughout the day today. Nonetheless, both systems are bona fide concerns.

Fred's dirty side, where most of the inclement weather will occur, is likely to impact Florida, starting in the Keys, and working up from there, and this has now prompted NHC to issue a Tropical Storm Warning for the Keys. More Watches and Warnings with Fred are likely forthcoming.

Invest 95L may be on the cusp of an upgrade. Daylight and perhaps some additional wind data could help make or brake the case for TC status, but regardless of an upgrade, it is clearly a system to keep an eye on, and a Forecast Lounge is now open for discussion on this system: 95L/PTC7 Forecast Lounge
- Ciel


8PM EDT 12 August 2021 Update
Recon aircraft flying through Fred has found the center has slowed a bit, and the 8PM position is east of where the 5PM position was estimated, also the forward motion has slowed. This may change the forecast track timeframes some (push them out a bit longer), but may or may not change intensity. However, the new center is now under the convection, so it has a bit better chance to strengthen tomorrow than before. Still unlikely to strengthen much, but it should be continued to be watched tomorrow. The Florida Keys and SW Florida South of Bonita Beach remain under a Tropical Storm Watch.

95L in the east Atlantic has a 70% chance to develop over the next 48 hours, but it has a long road ahead of it with easterly shear in the Atlantic being very high, which would likely cause it to remain weak.

5PM EDT 12 August 2021 Update
Tropical Storm watches are up for the Florida Keys and Southwest Florida Bonita Beach southward. Fred is still poorly organized this evening, but may still start to reorganize late tomorrow or Saturday. Based on the official forecast, the system may become a 50mph storm on Sunday as it approaches the panhandle.

From Friday into Monday, heavy rainfall could lead to some urban, small stream, and exacerbated river flooding across southern and central Florida, and into the Big Bend of Florida. By early next week, heavy rain and flood impacts could extend into other portions
of the Southeast and into the southern and central Appalachians and Piedmont.

95L east of the Caribbean islands, has a 70% chance to develop, but has hostile conditions ahead of it which may keep it weak for days.


8AM EDT 12 August 2021 Update
Fred, or whats left of it, is back over the water this morning. Recon is heading out there now to fix a low level center, possibly just a bit west of Inagua island based on visible satellite, which indicates the low level center may still be intact. Today Fred is dealing with shear and not great conditions, and nothing much is expected to redevelop today.

Later tomorrow the NHC is forecasting some restrengthening, and depending on the exact path could enter the Gulf or clip parts of Florida. Bringing rain to parts of it, how much depends on how re organized it can get over the next two days. Those in the cone should monitor it, particularly Friday afternoon and evening into Saturday, to see how much, if any, Fred redevelops.

Well to the east in the Atlantic, Invest area 95L remains with a 60% chance to develop, it will likely be close to the Caribbean islands starting Sunday. It appears to have two competing "centers" which may mean development can be very slow.

11PM EDT 11 August 2021 Update
Fred has weakened to a tropical depression over Hispaniola tonight, bringing very heavy, flooding rainfall to parts of the Island.

The National Hurricane Center is expecting that Fred will remain vertically coherent and restrengthen slowly after moving back over water.

It is expected to remain fairly disorganized most of the day tomorrow, but forecast to regain tropical storm strength on Friday. Windshear will also keep Fred in check, at least for the next 36 hours or so.

In the east Atlantic 95L has a 60% chance to develop over the next 5 days.

7AM EDT 11 August 2021 Update
Tropical Storm Fred is approaching Hispaniola from the Southeast, this will take it over the island likely causing it to weaken today, but not after causing a lot of potentially flooding rainfall on the island. Beyond this it is likely to be near or just offshore of Cuba and has a chance to get going again starting on Friday or so. On the forecast track it has a chance to strengthen once in the Gulf of Mexico.

Those in the keys could may find tropical storm conditions on Saturday, though.

Still a lot could change with this potential track.

95L in the eastern Atlantic remains at 30% chance to develop this morning.

Original Update
Tropical Storm Fred forms south of Puerto Rico, with 40 mph winds. It is expected to cross the island of Hispaniola tomorrow and enter into the Atlantic by tomorrow night. Eventual forecast is a 65MPH storm in the Gulf, but a great deal of uncertainty still lies in the exact track and intensity once past the islands. Hispaniola in particular can do a lot to weaken a system, which could impact its future. Conditions won't be good for any strengthening until about Friday, so it may be worth it to check back in then.

From the official discussion from Stacy Stewart "Fred is expected to be moving over warmer sea-surface temperatures and into a much weaker wind shear regime, which would favor more robust strengthening. As a result, some of the regional and statistical- dynamical intensity models bring Fred near or to hurricane strength during that time.", this highlights some of the uncertainty in the future, so it's a good idea to keep monitoring it, especially in the Friday range.

Outside of Fred, 95L in the east Atlantic has a 30% chance to develop over the next 5 days as it moves westward.

Discussion of the future of Fred on a more speculation scale can be found in the forecast lounge


{{StormLinks|Fred|06|6|2021|6|Fred}}
{{StormLinks|Grace|07|7|2021|7|Grace}}
{{StormLinks|96L|96|8|2021|96|Invest 96L}}

{{StormCarib}}

{{EastFloridaRadar}}

{{NortheastGulfRadar}}