First Day of the 2023 Atlantic Hurricane Season Kicks Off with 91L
Posted: 11:16 AM 01 June 2023 | | Add Comment
2PM ET Update 2 June 2023
TWO went on an intensifying "spree" this morning and by early afternoon NHC had confirmed that the cyclone has become our second storm and first name of the 2023 Atlantic Hurricane Season, Arlene.
Arlene is forecast to be short-lived as conditions probably become hostile over the weekend along its expected southerly to southeasterly track. If the low isn't wiped out, there may be some opportunity for some sort of reformation or reorganization early next week (Lounge speculation at this point)
6PM ET Update 1 June 2023
This afternoon sufficient convection and improved banding continued to persist. In addition, recon and microwave passes confirmed that a well-defined and closed low has formed with 91L, and as such, on the first day of the 2023 Atlantic Hurricane Season we also have a newly-minted T.D., actually TD 2, as an unnamed subtropical storm formed way back in January and was designated during post-analysis.
TWO is expected to continue to strengthen and become a named storm within the next 12-24 hours before weakening due to a forecast substantial increase in northerly shear. The first name on the list this year is Arlene.
Original Update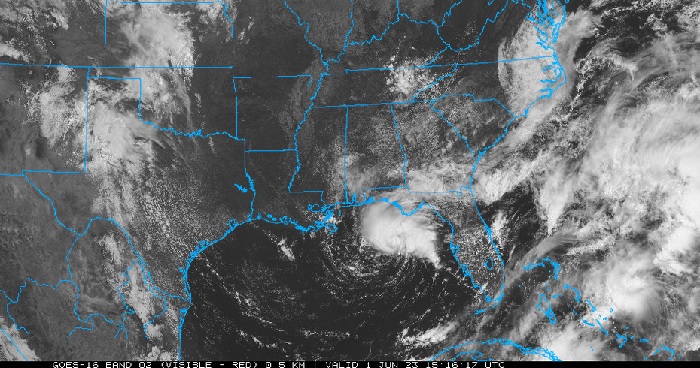 Above: Visible image of 91L at 11:16 ET
The official start to the 2023 Atlantic hurricane season begins with a well-defined, formerly non-tropical low pressure system in the northeastern Gulf that continues organizing, and has a solid shot of becoming our first named storm later today or Friday. NHC Invest tagged this feature yesterday, and recon is set to investigate within a few hours.

Ed Dunham
Hurricane Matthew Weather Summary for East Central Florida
Posted: 05:32 PM 16 October 2016
Hurricane Matthew passed just offshore of east-central Florida on the morning of October 7, 2016, as a Category III Major Hurricane with sustained winds of 115mph. The diameter of the eye at 5AM on Friday, October 7th, was 35NM and its location was 28.2N 80.0W or about 36 miles east of Patrick AFB with a movement to the north northwest at 13mph. Matthew moved parallel to the Florida coastline from Fort Pierce to Saint Augustine and then northward thereafter toward the South Carolina coast. Matthew never made landfall in Florida - the closest approach was at 6AM when the western edge of the eyewall brushed Cape Canaveral. Although the Tropical Storm force windfield was large, sustained winds of Hurricane strength only extended 40NM from the center on the western side of the tropical cyclone. Sustained hurricane force winds on land were confined to a small area at South Patrick Shores on the Barrier Island and a small area on the eastern tip of Cape Canaveral. In all other east central Florida coastal locations sustained winds of strong tropical storm force were observed. Storm total rainfall was generally in the 3 to 5 inch range except that some areas in Sanford received up to 9 inches of rain. Storm surge was in the 3 to 5 foot range along the east central Florida coast. During the storm, weather observations were not available from Indialantic, Patrick AFB, Cape Canaveral AFS and Titusville Airport - leaving a critical void in the meteorological record.

A low pressure reading of 28.97" was recorded at Melbourne NWS at 7AM. At 7:30AM I noted a pressure reading of 28.98" at my home in northwest Melbourne. The lowest pressure was located in the southern section of the eye of the hurricane and the central pressure from the Hurricane Hunters was recorded at 938MB (27.90") at 1AM. At 4AM the aircraft reported a circular eye with a diameter of 32NM and a central pressure of 942MB with flight level wind at 118 knots which translates to a 100 knot surface wind (115mph). At 7:17AM the aircraft sent a position fix for the eye at 28.6N 80.2W with a pressure of 942MB and eyewall sustained surface winds of 110 knots. The eye of Matthew had contracted to a circular 20NM diameter as the hurricane passed to the east of the area. Although the radius of the eye had contracted from 17NM to 10NM, the radius of sustained hurricane force winds remained at 40 miles to the west of the center. The central pressure increased and leveled off at 947MB during the day on Friday as Matthew moved NNW. If the eye of Matthew had moved along the shoreline, i.e., if it had been 35-40 miles further to the west, damage would have certainly been greater but no realistic conclusion can be made with regard to the extent of the destruction because an on-shore system would have slowly weakened.

Matthew goes into the record books as a Category I Hurricane in a small section of the Brevard County coast. In some reports from the NHC the flight level Recon wind speeds were not reduced correctly and resulted in stated maximum eyewall surface wind speeds that were about 10mph too high - and I cannot find a valid meteorological reason for doing this. Hurricane Erin in 1995 and Hurricanes Frances and Jeanne in 2004 were all storms with a greater impact on Brevard County. While the early call by the Brevard Emergency Management Operations Center to evacuate residents from the Barrier Islands was prudent, the overstated intensity and inland impacts were mis-leading and confusing to some of our residents. The National Hurricane Center and The Weather Channel both over-hyped the overall magnitude of the storm - which will not help folks to make the correct decision when the next hurricane visits our area. Matthew was not the catastrophic Category IV storm of the century that was touted by some for our area. All hurricanes are dangerous and deserve proper preparation and decision-making. It is worth noting that the area from Melbourne Beach to Titusville has never recorded a Cat III or greater hurricane. Someday that record of 165 years will probably be broken, but Matthew was not that storm. Hurricane David, September 3-4, 1979, was the last Category II Hurricane to hit this area with eye passage along the coast from West Palm Beach to New Smyrna Beach.
ED

Selected Weather Reports:

Vero Beach - wind W 49G74mph Rainfall 3.16"
Sebastian - wind N 30G59mph
5N Barefoot Bay - wind N G74mph
4NNW Grant - wind NW 51G68mph
Malabar - wind N 60G72mph
Melbourne Beach - wind N 23G63mph Lowest SLP: 28.85"
Melbourne (Dairy Road) - wind N 44G71mph
Melbourne - wind N 44G76mph Lowest SLP: 28.97"
NW Melbourne - wind NNW 42G65 Lowest SLP: 28.98 Storm Total Rainfall: 3.43"
Satellite Beach - wind N 69G87mph
2SSE Patrick AFB - wind N 69G88mph
South Patrick Shores - wind N 73G90mph Lowest SLP: 28.86"
Cocoa Beach Park - wind N 60G77mph
Merritt Island (Sunset Lakes) - wind NW 36G55mph Lowest SLP: 28.90"
Merritt Island (Banana River) - wind NNW 63G81mph
3WNW Cape Canaveral - wind gust N 86mph
4NE Cape Canaveral - wind gust NNW 81mph Coastal Flooding
5NE Port Canaveral - wind gust N 100mph
KSC Tower 22 - wind gust NW 107mph (non-standard anemometer height)
KSC Tower 3 - NNW 77G107mph (non-standard anemometer height)
Titusville (Parrish Park) - wind N 58G75mph
5NNE New Smyrna Beach - wind gust N 80mph
Daytona Beach (Speedway) - wind gust NNW 91mph
5NE Lake Mary - 24 hour rainfall 7.04"
Orlando Intl Airport - wind W 30G61mph Lowest SLP: 29.30"

From the Melbourne NWS:

G. STORM IMPACTS BY COUNTY...
---------------------------------------------------------------------
COUNTY DEATHS INJURIES EVACUATIONS
DESCRIPTION
---------------------------------------------------------------------
BREVARD 0 1 UNKNOWN
ONE DIRECT INJURY. A MALE IN HIS 40S WAS INJURED IN PORT CANAVERAL
WHEN A SIGN FELL AND STRUCK HIM DURING THE STORM. DAMAGE TO
BUSINESSES AND HOMES MAINLY AS A RESULT OF FALLEN TREES. SEVERAL
HOMES WITH WATER INTRUSION DUE TO DAMAGED ROOFS. TWO HOMES LOST TO
FIRE AS OFFICIALS SUSPENDED EMERGENCY SERVICES DURING THE HEIGHT OF
THE STORM. SPORADIC COUNTYWIDE DAMAGE TO FENCES...AWNINGS...AND
SCREEN ROOMS. AN INITIAL COASTAL SURVEY INDICATES MODERATE TO MAJOR
BEACH EROSION WITH SIGNIFICANT DAMAGE TO BERMS AND DUNES.
PRELIMINARY DAMAGE ASSESSMENT INDICATES AN ECONOMIC LOSS OF $25
MILLION DUE TO COASTAL EROSION, AND $4 MILLION DUE TO VEGETATIVE
LOSSES. PROPERTY DAMAGE ASSESSMENT HAS NOT BEEN COMPLETED. ABOUT
300,000 CUSTOMERS WERE WITHOUT POWER AT THE HEIGHT OF THE STORM.

INDIAN RIVER 0 0 UNKNOWN
NO DEATHS OR INJURIES. ROUGH SURF AND MAJOR BEACH EROSION.
PRELIMINARY BEACH DAMAGE ASSESSMENT DETAILS MAJOR DUNE EROSION AND
SIGNIFICANT DAMAGE TO PEDESTRIAN CROSSWALKS WITHIN COUNTY OWNED
BEACH PARKS WITH AN ESTIMATED ECONOMIC LOSS OF $13 MILLION. SEVERAL
HOMES DAMAGED MAINLY BY FALLEN TREES.

LAKE 0 0 UNKNOWN
NO DEATHS OR INJURIES. MINOR URBAN...ROADWAY...AND LOWLAND FLOODING.
THE ST. JOHNS RIVER NEAR ASTOR PEAKED JUST BELOW MODERATE FLOOD
STAGE. MINOR DAMAGE TO FOUR HOMES WITH MAJOR DAMAGE TO THREE CAUSED
MAINLY BY FALLING BRANCHES AND TREES. EARLY PROPERTY DAMAGE
ASSESSMENT OF APPROXIMATELY $389 THOUSAND.

MARTIN 0 1 UNKNOWN
ONE INDIRECT INJURY. A 47-YEAR-OLD MALE WAS ELECTROCUTED WHEN HIS
TOOLS HIT A LIVE POWER LINE WHILE TRIMMING TREES IN STUART AFTER
THE STORM ON MONDAY OCTOBER 10 AROUND 8:15 AM. ROUGH SURF AND MINOR
BEACH EROSION. MINOR DAMAGE TO HOMES MAINLY AS A RESULT OF FALLEN
TREES. ISOLATED DAMAGE TO FENCES...AWNINGS...AND SCREEN ROOMS.
PROPERTY DAMAGE ASSESSMENT NOT YET AVAILABLE.

OKEECHOBEE 0 0 UNKNOWN
NO DEATHS OR INJURIES. MINOR ROOF DAMAGE TO ONE HOME. UP TO 2300
CUSTOMERS WITHOUT POWER AT HEIGHT OF STORM.

ORANGE 1 0 UNKNOWN
ONE DEATH INDIRECTLY RELATED TO HURRICANE MATTHEW. A 70-YEAR-OLD
WOMAN DIED AFTER HER MEDICAL DEVICE FAILED DURING A POWER OUTAGE.
PROPERTY DAMAGE ASSESSMENT NOT YET AVAILABLE FROM OFFICIALS.

OSCEOLA 0 0 UNKNOWN
NO DEATHS OR INJURIES. NO REPORTS OF STRUCTURAL DAMAGE OR FLOODING.
MINOR DAMAGE MAINLY TO TREES AND VEGETATION. UP TO 5900 CUSTOMERS
WERE WITHOUT POWER AT THE HEIGHT OF THE STORM.

SEMINOLE 0 0 UNKNOWN
NO DEATHS OR INJURIES. MINOR URBAN...ROADWAY...LOWLAND AND RIVER
FLOODING. DAMAGE TO BUSINESSES AND RESIDENCES MAINLY BY FALLING
BRANCHES AND TREES. INITIAL PROPERTY DAMAGE ESTIMATED $15 MILLION.
UP TO 70,000 CUSTOMERS WITHOUT POWER AT THE HEIGHT OF THE STORM.

ST. LUCIE 2 2 UNKNOWN
TWO INDIRECT DEATHS AND TWO INDIRECT INJURIES. A 58-YEAR-OLD INDIAN
RIVER ESTATES WOMAN DIED OF A HEART ATTACK AND A PORT ST. LUCIE MAN
IN HIS 80S DIED AFTER SUFFERING BREATHING PROBLEMS AND SYMPTOMS OF A
STROKE AS FIRE OFFICIALS SUSPENDED EMERGENCY SERVICES DURING THE
HURRICANE. A 90-YEAR-OLD MALE AND FEMALE WERE FOUND UNCONSCIOUS IN
THEIR PORT ST. LUCIE HOME AFTER OFFICIALS DISCOVERED THEY WERE
RUNNING A GAS GENERATOR IN THEIR GARAGE. ROUGH SURF AND MODERATE TO
MAJOR BEACH EROSION. DAMAGE CONFINED MAINLY TO TREES...POWER
LINES...AND SIGNAGE THROUGH THE COUNTY. PROPERTY DAMAGE ASSESSMENT
NOT YET AVAIALBLE FROM OFFICIALS.

VOLUSIA 4 0 UNKNOWN
ONE DIRECT AND THREE INDIRECT FATALITIES. A 63-YEAR-OLD WOMAN DIED
WHEN A TREE FELL ON HER AS SHE WAS OUT FEEDING ANIMALS AT HER DELAND
HOME. A 89-YEAR-OLD MAN FROM DELEON SPRINGS WAS ELECTROCUTED BY A
DOWNED POWER LINE MONDAY MORNING AROUND 8:00 AM OCTOBER 10. A 47-
YEAR-OLD NORTHEAST OHIO MAN ASSISTING CLEANUP EFFORTS IN ORMOND
BEACH WAS KILLED WHEN PART OF A DOWNED TREE ROLLED ON TOP OF HIM AND
PINNED HIM UNDERNEATH. A 9-YEAR-OLD DAYTONA BEACH BOY WAS FOUND
UNCONSCIOUS IN HIS HOME AFTER OFFICIALS DISCOVERED A GENERATOR
RUNNING IN ANOTHER ROOM. THE BOY LATER DIED AT HALIFAX HEATLH
MEDICAL CENTER. SIGNIFICANT DAMAGE TO HOMES AND BUSINESS THROUGHOUT
THE COUNTY WITH OVER 6400 PROPERTIES AFFECTED, 1100 WITH MINOR
DAMAGE, 300 WITH MAJOR DAMAGE, AND 40 STRUCTURES DESTROYED. INITIAL
PROPERTY DAMAGE ESTIMATE OF $490 MILLION. ROUGH SURF AND MAJOR BEACH
EROSION. BEACH EROSION DAMAGE ASSESSMENTS NOT AVAILABLE AT THIS TIME.
General Links
Inside the Eye - Official National Hurricane Center Blog
Skeetobite's storm track maps
NRL-Monterey (Nice Tracking Maps and Satellite)
USNO Information on Current Storms (including Google Earth KMZ Files)
Interactive Wundermap
GFDL
San Jose State Models and More
Animated Earth Wind view of Tropical Atlantic
NOAA Historical Track Maps
- Create your own tracking maps.
Check the
Storm Forum
from time to time for comments on any new developing system.
Follow worldwide SST evolution here:
Global SST Animation
-
SST Forecast
.
Storms From Previous Years (Unisys)
IR
-
Vis
-
WV
-
Loop
-
TWC IR
-
Color IR
-
Loop
-
SSTs
-
Buoy
NASA MSFC North Atlantic Visible (Daytime Only)
,
Infrared
,
Water Vapor
LSU Sat images
,
RAMSDIS Satellite Images (rapid-scan imagery)
Full Western Hemisphere Sat Animation
Buoy Data
,
Dvorak Estimates
Caribbean Weather Observations
Some forecast models:
NHC/TAFB Experimental Gridded Marine Forecast
Multiple model output from Ryan Maue (HWRF, GFDL, GFS, etc)
GFS
,
ECMWF
(
ECMWF
) and
ECMWF
Tropical Tidbits model page (GFS + more)
FSU:
CMC, GFDL, GFS, NOGAPS, HWRF
;
Phase Analysis
DoD Weather Models (NOGAPS, AVN, MRF)
GFS, RUC, ETA
FIM Model
Raleighwx model page
,
Instant Weather Maps Models
Other commentary from
Tropical Tidbits (Levi Cowan)
,
Jeff Masters (Weather Underground)
,
Hurricanetrack.com (Mark Sudduth)
,
Hurricane City (Jim Williams)
,
Mike Watkins / HurricaneAnalytics.com
,
WXRisk
,
TropicalAtlantic
,
Gary Gray's Millennium Weather
,
storm2k
,
Hardcoreweather
,
StormPulse (Matthew Wensing)
, ,
Mike's WX Page
,
Greg Nordstrom
,
Gulf Coast Weather
,
American Weather
-
28 Storms
Ham Weather
,
Suncam TV (Streaming Video/cams)
,
Robert Lightbown/Crown Weather Tropical Update
NOAA Weather Radio
Even more on the links page.