Climatological Peak Arrives With The Atlantic Bubbling
Posted: 02:10 PM 29 August 2014 | | Add Comment
4:30 PM CDT 1 September 2014 Update
Invest 99L which made its way from the Caribbean across the Yucatan and into the extreme southwestern Gulf of Mexico has become the fifth tropical cyclone of the 2014 Atlantic Hurricane Season.
Tropical Depression Five presently consists of a well defined surface circulation with a curved band of hearty convection wrapping around to the south and east of the center, and maximum sustained winds of 30 MPH. Five is forecast to become Dolly and make landfall well south of The Texas/Mexico border around mid-week as a low-end tropical storm.
Original Update
The end of August comes with entering the climatological peak for activity in the Atlantic basin, and it appears it could be coming right on schedule with no less than five areas of disturbed weather in the Atlantic. Should any of these disturbances become better defined and/or they are issued Invest tags, we will set up individual Forecast Lounges, as warranted.
Closest to home, the broad low of old Invest 98L, which moved inland near Brownsville, Tx late yesterday, has subsumed a strong tropical surge that ran up behind it.
This merged feature is presently producing widespread tropical showers and some thunderstorms along the Gulf of Mexico from the Mexico/Texas border all the way to the west coast of Florida. Gusts of up to 50 MPH are occuring offshore, and as a westerly wind component already exists, despite the old center of 98L now being just inland, it may be wise to keep tabs on this throughout this holiday weekend, just in case. Sometimes inland centers can reform offshore, if given the chance. Either way, some on again/off again squally weather is a safe bet for much of the gulf coast today, and possibly into the rest of the weekend.
Below: Invest 98L 12:15PM CDT 8/29/2014
Texas Gulf Coast Links
Texas/South Plains Valley Composite Radar Loop
(
Latest Static
) East to West:
Houston/Galveston, TX Radar Long Range Radar Loop ( Latest Static)
Corpus Christi, TX Radar Long Range Radar Loop ( Latest Static)
Brownsville, TX Radar Long Range Radar Loop ( Latest Static)
Gulf of Mexico Satellite Imagery
Area Forecast Discussions: Houston/Galveston, TX - Corpus Christi, TX - Browsnville/South Padre Island, TX

StormCarib Reports from the Caribbean Islands
Caribbean Weather Observations
Caribbean Broadcast Corporation (TV/Radio from Antilles)
San Juan, PR Radar Long Range Radar Loop ( Latest Static)
Various Caribbean Radio Stations
DR1 Dominican Republic Hurricanes

Tropical Depression Five Event Related Links


Animated Skeetobite Model Plot of TD#5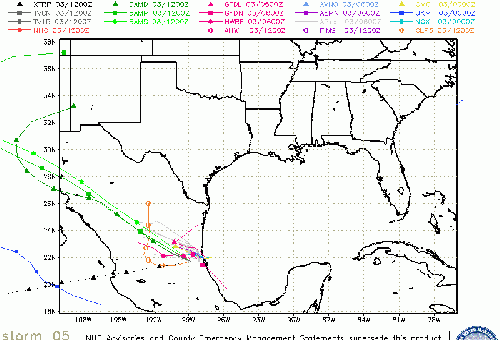 SFWMD Model Plot (Animated Model Plot) SFWMD Hurricane Page
Clark Evans Track Model Plot of TD#5 (Animated!) Model Plots in Google Earth - In Google Maps
Clark Evans Intensity Model Plot of TD#5 (Animated!)
Clark Evans Track Plot of TD#5
Clark Evans Top 10 Analog Storms for TD#5
More model runs on from RAL/Jonathan Vigh's page
NRL Info on TD#5 -- RAMMB Info

Floater Satellite Images: Visible (Loop), IR (Loop), WV (Loop), Dvorak (Loop), AVN (Loop), RGB (Loop), Rainbow (Loop), Funktop (Loop), RB Top Loop)




Ed Dunham
End of an Era
Posted: 02:40 PM 01 September 2014
It is beginning to look like the era of 'high spin cycle' tropical cyclone activity in the Atlantic basin that started in 1995 has run its course with only three named storms recorded through the end of August. There were hints of that demise last year with a below normal level of hurricane development, i.e., only two Cat I storms - the last time that the Atlantic only had two hurricanes in a season was 1982. The last time that a season had three or less named storms by August 31st was in 1994 - the last year of the previous 'quiet cycle' in the Atlantic.

In the 45 seasons from 1950-2014 there were 17 seasons that only had three named storms by August 31st, so its not an unusual event, but it is unusual that the last one was 20 years ago. At the other end of the activity spectrum, in 1995, 2005, 2011 and 2012 there were 12 named storms by August 31st. Here are the previous 16 seasons since 1950 with three or less named storms prior to September 1st along with activity totals for those years, totals for the following year, and hurricane landfall statistics for the 16 seasons:

Year - # by 8/31 - total activity - following year - U.S. landfalls - FL landfalls
1952 2 6/6/3 13/6/4 1 0
1956 3 8/4/2 7/3/2 1 1
1957 2 7/3/2 10/7/5 1 0
1961 1 11/8/7 5/3/1 2 0
1962 2 5/3/1 9/7/2 0 0
1963 2 9/7/2 12/6/6 1 0
1965 3 6/4/1 11/7/3 1 0
1967 1 8/6/1 8/4/0 1 0
1977 1 6/5/1 12/5/2 1 0
1980 3 11/9/2 12/7/3 1 0
1982 3 6/2/1 4/3/1 0 0
1983 2 4/3/1 13/5/1 1 0
1987 3 7/3/1 11/5/3 1 1
1991 2 8/4/2 7/4/1 1 0
1992 2 7/4/1 7/3/1 1 1
1994 3 7/3/0 19/11/5* 0 0

Average 2 7/5/2 9/5/2 1 0
(*1995 was not included in the 'following year' average since 1995 was the start of the active cycle.)

Note that although these were all slow starting years (and mostly quiet years), every season except 1994 had at least one major hurricane. Although these were mostly quiet years, only three of them did not have a U.S. landfalling hurricane, while in Florida only three seasons had a landfalling hurricane. In the following year, one season had normal activity while seven seasons were above normal and seven seasons had below normal named storm activity, i.e., no correlation to the previous year. On average, based on the 16 seasons that started with three named storms (or less) by August 31st, this season would be expected to have four more named storms - with a minimum of one more and a maximum of eight more.

Since the lack of activity cannot be blamed on an El Nino event (it has not yet started), it is increasingly likely that the period of Atlantic high tropical cyclone activity has ended. However, it is important to remember that the likelihood of a U.S. hurricane landfall is about the same (approximately 22%) during a 'quiet cycle' era as it is during an 'active cycle' era - and that is also true for a Florida hurricane landfall (about 5%).
ED
General Links
Inside the Eye - Official National Hurricane Center Blog
Skeetobite's storm track maps
NRL-Monterey (Nice Tracking Maps and Satellite)
USNO Information on Current Storms (including Google Earth KMZ Files)
Interactive Wundermap
GFDL
San Jose State Models and More
Animated Earth Wind view of Tropical Atlantic
NOAA Historical Track Maps
- Create your own tracking maps.
Check the
Storm Forum
from time to time for comments on any new developing system.
Follow worldwide SST evolution here:
Global SST Animation
-
SST Forecast
.
Storms From Previous Years (Unisys)
IR
-
Vis
-
WV
-
Loop
-
TWC IR
-
Color IR
-
Loop
-
SSTs
-
Buoy
NASA MSFC North Atlantic Visible (Daytime Only)
,
Infrared
,
Water Vapor
LSU Sat images
,
RAMSDIS Satellite Images (rapid-scan imagery)
Full Western Hemisphere Sat Animation
Buoy Data
,
Dvorak Estimates
Caribbean Weather Observations
Some forecast models:
NHC/TAFB Experimental Gridded Marine Forecast
Multiple model output from Ryan Maue (HWRF, GFDL, GFS, etc)
GFS
,
ECMWF
(
ECMWF
) and
ECMWF
Tropical Tidbits model page (GFS + more)
FSU:
CMC, GFDL, GFS, NOGAPS, HWRF
;
Phase Analysis
DoD Weather Models (NOGAPS, AVN, MRF)
GFS, RUC, ETA
FIM Model
Raleighwx model page
,
Instant Weather Maps Models
Other commentary from
Tropical Tidbits (Levi Cowan)
,
Jeff Masters (Weather Underground)
,
Hurricanetrack.com (Mark Sudduth)
,
Hurricane City (Jim Williams)
,
Mike Watkins / HurricaneAnalytics.com
,
WXRisk
,
TropicalAtlantic
,
Gary Gray's Millennium Weather
,
storm2k
,
Hardcoreweather
,
StormPulse (Matthew Wensing)
, ,
Mike's WX Page
,
Greg Nordstrom
,
Gulf Coast Weather
,
American Weather
-
28 Storms
Ham Weather
,
Suncam TV (Streaming Video/cams)
,
Robert Lightbown/Crown Weather Tropical Update
NOAA Weather Radio
Even more on the links page.