Tropical Depression Two Weakens to an Open Wave
1:00 PM 23 July 2014 Update
Tropical Depression two has degenerated into only a weak swirl remaining with no deep
convection, and not is just remnants of its former self. Chances of regenerating are extremely low.
4:35 PM 21 July 2014 Update
Tropical Depression Two has formed in the central Atlantic from 92L, which just began being tracked this morning. This is a small system that may increase/decrease in strength relatively quickly. It is currently forecast to weaken as it enters more hostile conditions.
Those in the eastern Caribbean will want to watch, however. But odds favor this being a short lived system.
2:30 PM 21 July 2014 Update
Chances have jumped up to 70%, as the storm is well presented in the Central Atlantic. The Navy has issued a Tropical Cyclone Formation Alert for this system, so it could possibly be upgraded to a depression at 5PM.
Original Update
After most of July being quiet after Arthur, a system that is now in the Central Atlantic, and being tracked as 92L, is now in a position to develop, and is looking quite well this morning for the system. If the current look persists today, chances for development could go way up from the current 20%.
Based on current movement and low level models, those in the Eastern Caribbean will want to watch to see what happens over the next few days.
There will be more to come on this system later today.
Caribbean Weather Reports
Caribbean Radar Mosaic
Tropical Depression Two Event Related Links

Animated Skeetobite Model Plot of TD#2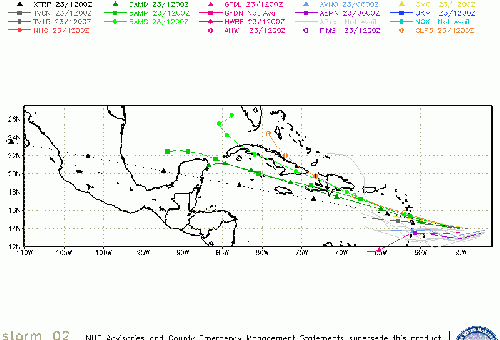 SFWMD Model Plot (Animated Model Plot) SFWMD Hurricane Page (More Tracking Information)
Clark Evans Track Model Plot of TD#2 (Animated!) Model Plots in Google Earth - In Google Maps
Clark Evans Intensity Model Plot of TD#2 (Animated!)
Clark Evans Track Plot of TD#2
Clark Evans Top 10 Analog Storms for TD#2
More model runs on from RAL/Jonathan Vigh's page
NRL Info on TD#2 -- RAMMB Info

Floater Satellite Images: Visible (Loop), IR (Loop), WV (Loop), Dvorak (Loop), AVN (Loop), RGB (Loop), Rainbow (Loop), Funktop (Loop), RB Top Loop)



Ed Dunham
Hurricane Arthur
Posted: 05:50 PM 03 July 2014
Kudos to The Weather Channel for deviating from the 'official' forecast earlier this afternoon. At 5PM EDT on July 3rd, NHC made an adjustment westward with the forecast track for Hurricane Arthur - and the actual track is probably going to be slightly west of that.

An upper level low located near 39N 58W at 03/21Z continues to retrograde westward. High pressure is centered south of the Great Lakes behind a cool front moving eastward through the Appalachian Range. Hurricane Arthur continues to maintain more of a north northeast movement and I would anticipate a track adjustment on a course a little more to the west with Arthur moving over eastern North Carolina just to the west of the Outer Banks as a Cat II Hurricane Thursday night into the early hours of Friday morning. As the front approaches the east coast, Arthur will be nudged into more of a northeast movement with the center passing just to the southeast of Cape Cod around midnight Friday night as a minimal Cat I hurricane undergoing extratropical transition.

Hurricane conditions likely over eastern North Carolina within 25 miles of the center track in the southwest and northwest quadrants and within 75 miles of the track in the northeast and southeast quadrants. Any hurricane preparations by those who are in or near the path of the hurricane should have already been completed. A fully transitioned strong Extratropical storm should pass over Nova Scotia on Saturday and over Newfoundland on Sunday.
ED
General Links
Inside the Eye - Official National Hurricane Center Blog
Skeetobite's storm track maps
NRL-Monterey (Nice Tracking Maps and Satellite)
USNO Information on Current Storms (including Google Earth KMZ Files)
Interactive Wundermap
GFDL
San Jose State Models and More
NOAA Historical Track Maps
- Create your own tracking maps.
Check the
Storm Forum
from time to time for comments on any new developing system.
Follow worldwide SST evolution here:
Global SST Animation
-
SST Forecast
.
Storms From Previous Years (Unisys)
IR
-
Vis
-
WV
-
Loop
-
TWC IR
-
Color IR
-
Loop
-
SSTs
-
Buoy
NASA MSFC North Atlantic Visible (Daytime Only)
,
Infrared
,
Water Vapor
LSU Sat images
,
RAMSDIS Satellite Images (rapid-scan imagery)
Full Western Hemisphere Sat Animation
Buoy Data
,
Dvorak Estimates
Caribbean Weather Observations
Some forecast models:
NHC/TAFB Experimental Gridded Marine Forecast
Multiple model output from Ryan Maue (HWRF, GFDL, GFS, etc)
GFS
,
ECMWF
(
ECMWF
) and
ECMWF
Tropical Tidbits model page (GFS + more)
FSU:
CMC, GFDL, GFS, NOGAPS, HWRF
;
Phase Analysis
DoD Weather Models (NOGAPS, AVN, MRF)
GFS, RUC, ETA
FIM Model
Raleighwx model page
,
Instant Weather Maps Models
Other commentary from
Tropical Tidbits (Levi Cowan)
,
Jeff Masters (Weather Underground)
,
Hurricanetrack.com (Mark Sudduth)
,
Hurricane City (Jim Williams)
,
Mike Watkins / HurricaneAnalytics.com
,
WXRisk
,
TropicalAtlantic
,
Gary Gray's Millennium Weather
,
storm2k
,
Hardcoreweather
,
StormPulse (Matthew Wensing)
, ,
Mike's WX Page
,
Greg Nordstrom
,
Gulf Coast Weather
,
American Weather
-
28 Storms
Ham Weather
,
Suncam TV (Streaming Video/cams)
,
Robert Lightbown/Crown Weather Tropical Update
NOAA Weather Radio
Even more on the links page.