Tropical Depression 3 Dissipates in late July
11 AM EDT 23 July 2019 Update
TD#3 has dissipated after recon found it falling apart.
There is an area in the Gulf with a 20% chance for development later in the week.
9:30 PM EDT 22 July 2019 Update
Tropical Depression 3 formed, and quickly lost convection after being upgraded. Although overnight it may regain some.
This is expected to remain offshore of Florida, and outside of right along the beach, should not be really noticeable to Florida.
Original Update
The National Hurricane Center is mentioning a new area east of the Bahamas in the Outlook, with a 20% chance of development. This area, being designated Invest 94L, has no model support yet, but there is enough vorticity to make it worth watching.
If this were late August or September it probably be much more concerning. It's been mostly surrounded by dry air, but is gaining some moisture, but will likely remain squelched by dry air for the next few days. It's fighting a front coming up as well, so the chances for anything happening are quite low. But because of the location it's now designated 94L.
No real model support, but the chance for a small system ramping up is still there. Since it's near Bahamas and Florida it has our attention.
See
The forecast lounge.
for more speculation.
July 22nd 5PM EDT update - The NHC decided to classify the system in the Bahamas as Tropical Depression 3. Not much is expected from the system as it moves north for the next couple of days until it's likely absorbed by a frontal boundary.
However, interests along the Florida, Georgia, and Carolina coast should keep an eye on the system.
Tropical Depression 3 Event Related Links
Flhurricane Satellite Floater Animation of of 3 - New for 2018


Animated Skeetobite Model Plot of 3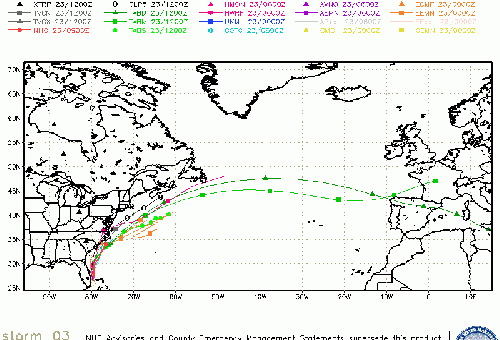 SFWMD Model Plot (Animated Model Plot) SFWMD Hurricane Page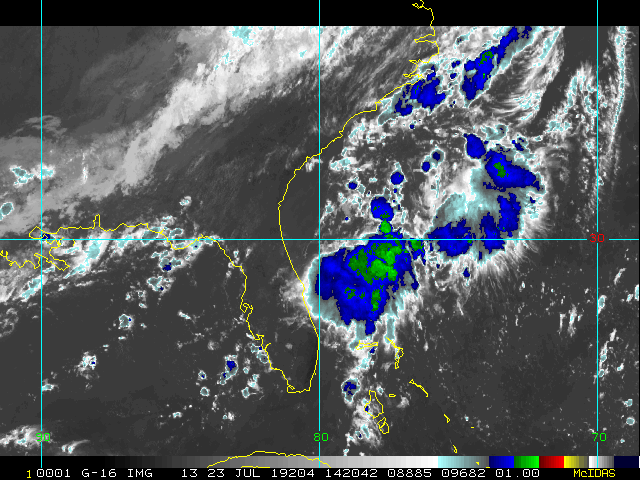 Clark Evans Track Model Plot of 3 (Animated!) Model Plots in Google Earth - In Google Maps
Clark Evans Intensity Model Plot of 3 (Animated!)
Clark Evans Top 10 Analog Storms for 3
More model runs on from RAL/Jonathan Vigh's page
NRL Info on 3 -- RAMMB Info

Floater Satellite Images: Visible (Loop), IR (Loop), WV (Loop), Dvorak (Loop), AVN (Loop), RGB (Loop), Rainbow (Loop), Funktop (Loop), RB Top Loop)


East Florida Links Southeast Composite Radar Loop (Latest Static) South to North:
Key West, FL Radar Long Range Radar Loop (Latest Static) Base (Static) 1 HR Rainfall (Static) Storm Total Rainfall (Static)
Miami, FL Radar Long Range Radar Loop (Latest Static) Base (Static) 1 HR Rainfall (Static) Storm Total Rainfall (Static)
Melbourne, FL Radar Long Range Radar Loop (Latest Static) Base (Static) 1 HR Rainfall (Static) Storm Total Rainfall (Static)
Jacksonville, FL Radar Long Range Radar Loop (Latest Static) Base (Static) 1 HR Rainfall (Static) Storm Total Rainfall (Static)

Caribbean/South East Coast Satellite Imagery

SFWMD Radar Loop of South Florida with storm Track

SFWMD Full Florida Radar Loop with Storm Track

Area Forecast Discussions: FLorida Keys - Miami/South Florida - Melbourne/East Central Florida - Jacksonville/Northeast Florida -

Latest
Flhurricane Facebook Page
updates -
See More Updates...
Beyond Tropical Depression Three, there is an area in the gulf with a 20% chance for Development over the next 5 days. Likely just a weak rainmaker, but the Northern/NE Gulf coasts will want to watch it.

General Links
Inside the Eye - Official National Hurricane Center Blog
Skeetobite's storm track maps
NRL-Monterey (Nice Tracking Maps and Satellite)
USNO Information on Current Storms (including Google Earth KMZ Files)

Experimental forecast storm probabilities from Dr. Alan Brammer

Goes 16 Satellite Images (new for 2017)
College of DuPage Animated Goes 16 loop of Gulf of Mexico

Large Color Southeast Satellite Image

Interactive Wundermap
San Jose State Models and More
Animated Earth Wind view of Tropical Atlantic

NOAA Historical Track Maps - Create your own tracking maps.

Check the Storm Forum from time to time for comments on any new developing system.

Follow worldwide SST evolution here: Global SST Animation - SST Forecast.

Storms From Previous Years (Unisys)

IR - Vis - WV - Loop - TWC IR - Color IR - Loop - SSTs - Buoy
NASA MSFC North Atlantic Visible (Daytime Only), Infrared, Water Vapor
LSU Sat images, RAMSDIS Satellite Images (rapid-scan imagery)
Full Western Hemisphere Sat Animation

Buoy Data, Dvorak Estimates

Caribbean Weather Observations

Some forecast models:
NHC/TAFB Experimental Gridded Marine Forecast

GFS, ECMWF (ECMWF) and ECMWF Tropical Tidbits model page (GFS + more)
FSU: CMC, GFDL, GFS, NOGAPS, HWRF; Phase Analysis
DoD Weather Models (NOGAPS, AVN, MRF)
GFS, RUC, ETA
FIM Model
American Weather/Raleighwx model page, Instant Weather Maps Models
Tropical Tidbits (Levi Cowan), Jeff Masters (Weather Underground) , Hurricanetrack.com (Mark Sudduth), Hurricane City (Jim Williams) , Mike Watkins / HurricaneAnalytics.com, WXRisk, TropicalAtlantic, Gary Gray's Millennium Weather, storm2k, Hardcoreweather, StormPulse (Matthew Wensing), , Mike's Weather Page, Greg Nordstrom, Gulf Coast Weather, American Weather - 28 Storms Ham Weather, Suncam TV (Streaming Video/cams), Robert Lightbown/Crown Weather Tropical Update

NOAA Weather Radio

Flhurricane Ustream Video Stream (Active only in certain events)

CFHC Weather Stations: Orlando (Universal) - Cocoa (Lake Poinsette) -
Even more on the links page.