Tropical Depression 2 Forms North of The Bahamas
The 2nd tropical depression of 2016 has formed, the second before the official start of hurricane season on June 1st.
Tropical Storm Warnings are up for the South Carolina coastline.. From the Savannah river northeast to little river inlet.
Tropical Depression Two Event Related Links

Animated Skeetobite Model Plot of TD#2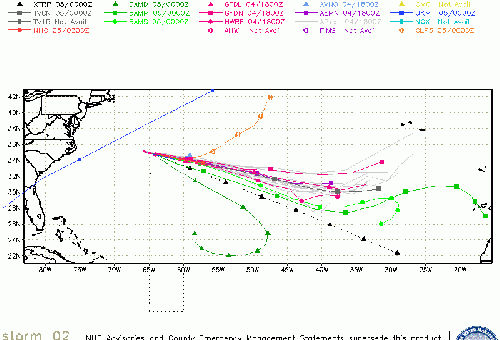 SFWMD Model Plot (Animated Model Plot) SFWMD Hurricane Page
Clark Evans Track Model Plot of TD#2 (Animated!) Model Plots in Google Earth - In Google Maps
Clark Evans Intensity Model Plot of TD#2 (Animated!)
Clark Evans Track Plot of TD#2
Clark Evans Top 10 Analog Storms for TD#2
More model runs on from RAL/Jonathan Vigh's page
NRL Info on TD#2 -- RAMMB Info

Floater Satellite Images: Visible (Loop), IR (Loop), WV (Loop), Dvorak (Loop), AVN (Loop), RGB (Loop), Rainbow (Loop), Funktop (Loop), RB Top Loop)


Mid-Atlantic/Carolina Links Southeast Composite Radar Loop (Latest Static)
Charleston, SC Radar Long Range Radar Loop (Latest Static) Base (Static) 1 HR Rainfall (Static) Storm Total Rainfall (Static)
Wilmington, NC Radar Long Range Radar Loop (Latest Static) Base (Static) 1 HR Rainfall (Static) Storm Total Rainfall (Static)
Morehead City, NC Radar Long Range Radar Loop (Latest Static) Base (Static) 1 HR Rainfall (Static) Storm Total Rainfall (Static)
Norfolk/Wakefield, VA Radar Long Range Radar Loop (Latest Static) Base (Static) 1 HR Rainfall (Static) Storm Total Rainfall (Static)
Area Forecast Discussions: Charleston, SC - Wilmington, NC - Morehead City, NC - Norfolk/Virginia Beach/Hampton Roads, VA


Ed Dunham
The Erika Enigma
Posted: 05:57 PM 27 August 2015
At 27/17Z, TS Erika was located at 16.5N 63.5W and at 27/19Z Erika was located at 16.6N 63.6W - pretty much a dead stop, i.e., slow drift to the northwest, however at 27/21Z the center was located at 16.8N 63.8W - still moving to the northwest but the forward speed is increasing. With convection displaced to the southeast, positions were easy to determine based on the exposed, but still well formed, LLCC. As noted elsewhere, convection was firing on the eastern edge of the center but it is now firing over most of the center and the displacement continues to the east and southeast.

Over the past couple of days the forecast models have been of very little help in determining both the future intensity and the forecast track of this sheared tropical cyclone - both the early and the long range models have been all over the place with this system. Some of this erratic model output has surfaced in the NHC forecast which at times has seemed to be just as erratic, but if you live by the model.... To be fair, they have to come up with something every six hours whereas we have no such requirement.

When dealing with the tropics there are times (frequent times actually) when persistence is not only the best solution but often the only realistic solution so before I chastise the NHC too harshly I'll wait awhile and see how this all plays out. When forecasting hurricanes, the hardest thing to do is to have patience - when something is expected to happen but it doesn't, if you force yourself to wait a little longer the event that you expected, i.e., a turn to the northwest or something like that, eventually will. In other words the forecast idea was generally pretty good, but the timing was off.

Where is Erika likely to go - and will Erika survive to do it? Right now there are many options and all of them are realistic based on where the tropical cyclone is and what the environment looks like and how that environment is expected to evolve. Erika could get sheared apart and become an open wave. Erika could hit Puerto Rico and fall apart or survive and just miss Hispaniola. Erika could hit Hispaniola and end the storm track. Which one is the likely solution? Right now I have no firm idea - so I'll be patient for a little while longer. At Erika's current speed I certainly have enough time to do that. Erika still has to deal with a significant amount of windshear but, since the shear is primarily in the upper levels of the atmosphere, the system has been dealing with the shear rather well so far and it will probably continue to do so as long as the LLCC remains intact.
ED
General Links
Inside the Eye - Official National Hurricane Center Blog
Skeetobite's storm track maps
NRL-Monterey (Nice Tracking Maps and Satellite)
USNO Information on Current Storms (including Google Earth KMZ Files)
Large Color Southeast Satellite Image
Interactive Wundermap
San Jose State Models and More
Animated Earth Wind view of Tropical Atlantic
NOAA Historical Track Maps
- Create your own tracking maps.
Check the
Storm Forum
from time to time for comments on any new developing system.
Follow worldwide SST evolution here:
Global SST Animation
-
SST Forecast
.
Storms From Previous Years (Unisys)
IR
-
Vis
-
WV
-
Loop
-
TWC IR
-
Color IR
-
Loop
-
SSTs
-
Buoy
NASA MSFC North Atlantic Visible (Daytime Only)
,
Infrared
,
Water Vapor
LSU Sat images
,
RAMSDIS Satellite Images (rapid-scan imagery)
Full Western Hemisphere Sat Animation
Buoy Data
,
Dvorak Estimates
Caribbean Weather Observations
Some forecast models:
NHC/TAFB Experimental Gridded Marine Forecast
GFS
,
ECMWF
(
ECMWF
) and
ECMWF
Tropical Tidbits model page (GFS + more)
FSU:
CMC, GFDL, GFS, NOGAPS, HWRF
;
Phase Analysis
DoD Weather Models (NOGAPS, AVN, MRF)
GFS, RUC, ETA
FIM Model
American Weather/Raleighwx model page
,
Instant Weather Maps Models
Other commentary from
Tropical Tidbits (Levi Cowan)
,
Jeff Masters (Weather Underground)
,
Hurricanetrack.com (Mark Sudduth)
,
Hurricane City (Jim Williams)
,
Mike Watkins / HurricaneAnalytics.com
,
WXRisk
,
TropicalAtlantic
,
Gary Gray's Millennium Weather
,
storm2k
,
Hardcoreweather
,
StormPulse (Matthew Wensing)
, ,
Mike's Weather Page
,
Greg Nordstrom
,
Gulf Coast Weather
,
American Weather
-
28 Storms
Ham Weather
,
Suncam TV (Streaming Video/cams)
,
Robert Lightbown/Crown Weather Tropical Update
NOAA Weather Radio
Flhurricane Ustream Video Stream (Active only in certain events)
CFHC Weather Stations:
Orlando (Universal)
-
Cocoa (Lake Poinsette)
-
Even more on the links page.