Atlantic Hurricane Season 2018 Officially Begins
Posted: 07:02 AM 01 June 2018 | | Add Comment
Today marks the first day of the 2018 Atlantic Hurricane season, which runs intil November 30th.
Last year, Harvey, Irma, Maria, Nate, the 4 hurricanes that hit the United States last year will be remembered. The first three, Harvey, Irma, and Maria were the trio that broke the chain of no major us-landfalling hurricanes for 11 years prior. These affected the areas they hit greatly.
Rockport, Texas by the wind, and much of eastern Texas from the flooding rains. Harvey was retired and will remain a strong memory for many in the area.
Irma, wiping out Barbuda in the Caribbean, ST. Martin, Virgin Islands, and others, before moving into Cuba and Florida, the worst damage on the mainland being just east of Key West, FL.
Maria, first devistating the island of Dominica before tearing apart much of Puerto Rico.
This year won't be like that, but there is no guarantee another major hurricane will not hit again, in different ways. The water temperatures are a bit cooler, and the shear is likely to be more impactful, but still the overall favorible pattern exists. Alberto was the early foray into the season, with one of the oddest sub-tropical systems that we've seen in a good while.
Beyond Alberto, the next area to watch is likely the West Caribbean and Gulf still (particularly in 10-12 days), then expanding into more of the Atlantic in July.
Once again we'll be watching out in the Atlantic, and Hawaii if any storms threaten there.
This is also the first year of operational Goes-16 satellite data, which is still being integrated into various websites.
Remember, this site (and others like it) should just supplement, but not replace the official sources.
Be Hurricane prepared!
Sales Tax Holiday
This year Florida has a Hurricane Supply Sales Tax Holiday running June 1-7, 2018
This Includes reusable ice packs $10 or less.
$20 or less flashlights, lanters, cancles.
$25 or less: Any gas or diesel fuel container, including LP gas and kerosene containers
$30 or less: Batteries, including rechargeable batteries, excluding automobile and boat
Coolers and ice chests (food-storage; nonelectrical)
$50 or less: tarps, Visqueen, plastic sheeting, plastic drop cloths, and other flexible waterproof sheeting
Ground anchor systems, Tie-down kits, Bungee cords, Ratchet straps, Radios (powered by battery, solar, or hand-crank)
Two-way, Weather band
and Portable Generators Selling for $750 or less.
Invest 91L Event Related Links

Animated Skeetobite Model Plot of 91L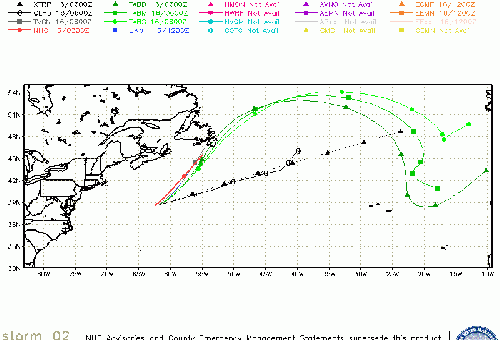 SFWMD Model Plot (Animated Model Plot) SFWMD Hurricane Page
Clark Evans Track Model Plot of 91L (Animated!) Model Plots in Google Earth - In Google Maps
Clark Evans Intensity Model Plot of 91L (Animated!)
Clark Evans Top 10 Analog Storms for 91L
More model runs on from RAL/Jonathan Vigh's page
NRL Info on 91L -- RAMMB Info

Floater Satellite Images: Visible (Loop), IR (Loop), WV (Loop), Dvorak (Loop), AVN (Loop), RGB (Loop), Rainbow (Loop), Funktop (Loop), RB Top Loop)


Latest
Flhurricane Facebook Page
updates -
See More Updates...
The Atlantic Hurricane basin is currently quiet, with nothing tropical currently on the horizon.
General Links
Inside the Eye - Official National Hurricane Center Blog
Skeetobite's storm track maps
NRL-Monterey (Nice Tracking Maps and Satellite)
USNO Information on Current Storms (including Google Earth KMZ Files)

Experimental forecast storm probabilities from Dr. Alan Brammer

Goes 16 Satellite Images (new for 2017)
College of DuPage Animated Goes 16 loop of Gulf of Mexico

Large Color Southeast Satellite Image

Interactive Wundermap
San Jose State Models and More
Animated Earth Wind view of Tropical Atlantic

NOAA Historical Track Maps - Create your own tracking maps.

Check the Storm Forum from time to time for comments on any new developing system.

Follow worldwide SST evolution here: Global SST Animation - SST Forecast.

Storms From Previous Years (Unisys)

IR - Vis - WV - Loop - TWC IR - Color IR - Loop - SSTs - Buoy
NASA MSFC North Atlantic Visible (Daytime Only), Infrared, Water Vapor
LSU Sat images, RAMSDIS Satellite Images (rapid-scan imagery)
Full Western Hemisphere Sat Animation

Buoy Data, Dvorak Estimates

Caribbean Weather Observations

Some forecast models:
NHC/TAFB Experimental Gridded Marine Forecast

GFS, ECMWF (ECMWF) and ECMWF Tropical Tidbits model page (GFS + more)
FSU: CMC, GFDL, GFS, NOGAPS, HWRF; Phase Analysis
DoD Weather Models (NOGAPS, AVN, MRF)
GFS, RUC, ETA
FIM Model
American Weather/Raleighwx model page, Instant Weather Maps Models
Tropical Tidbits (Levi Cowan), Jeff Masters (Weather Underground) , Hurricanetrack.com (Mark Sudduth), Hurricane City (Jim Williams) , Mike Watkins / HurricaneAnalytics.com, WXRisk, TropicalAtlantic, Gary Gray's Millennium Weather, storm2k, Hardcoreweather, StormPulse (Matthew Wensing), , Mike's Weather Page, Greg Nordstrom, Gulf Coast Weather, American Weather - 28 Storms Ham Weather, Suncam TV (Streaming Video/cams), Robert Lightbown/Crown Weather Tropical Update

NOAA Weather Radio

Flhurricane Ustream Video Stream (Active only in certain events)

CFHC Weather Stations: Orlando (Universal) - Cocoa (Lake Poinsette) -
Even more on the links page.