Tropical Storm Chantal Forms in the Open Atlantic
10:30 PM AST 20 August 2019 Update
Invest 97L rapidly organized throughout the day (and night) while heading east out to sea, and has become the fourth Tropical Cyclone and third named storm of the 2019 Atlantic Hurricane Season. No threat to land for the foreseeable future, if ever.
-Ciel
The 2PM Outlook shows a 20% chance for development in the system in the east Atlantic later this week as it moves toward Hispaniola and later the Bahamas,there is several days to watch as the system develop, which isn't expected until it gets north of the Caribbean islands. This system is being tracked as invest 95L.
It will most likely stay east of Florida, but the forecasting models seem to behind the curve on the current state of this system, so it's wise to monitor it closely. See the
forecast lounge
for more speculation on this system. The overall pattern suggests any systems that develop in early August will likely curve away from the US.
Chantal Event Related Links
Flhurricane Satellite Floater Animation of of Chantal - New for 2018


Animated Skeetobite Model Plot of Chantal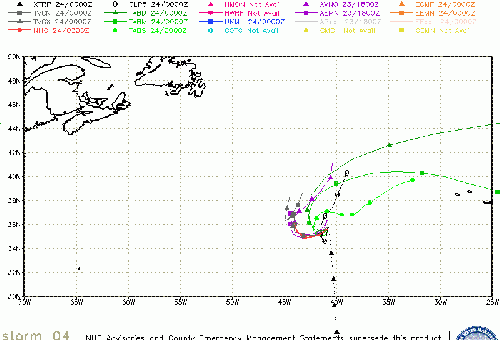 SFWMD Model Plot (Animated Model Plot) SFWMD Hurricane Page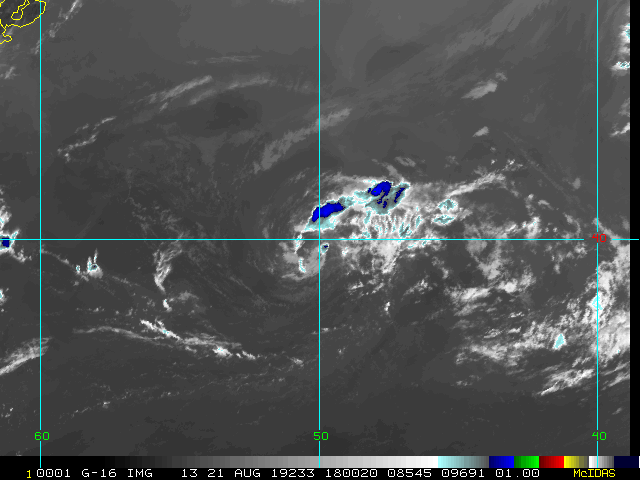 Clark Evans Track Model Plot of Chantal (Animated!) Model Plots in Google Earth - In Google Maps
Clark Evans Intensity Model Plot of Chantal (Animated!)
Clark Evans Track Plot of Chantal
Clark Evans Top 10 Analog Storms for Chantal
More model runs on from RAL/Jonathan Vigh's page
NRL Info on Chantal -- RAMMB Info

Floater Satellite Images: Visible (Loop), IR (Loop), WV (Loop), Dvorak (Loop), AVN (Loop), RGB (Loop), Rainbow (Loop), Funktop (Loop), RB Top Loop)


StormCarib Reports from the Caribbean Islands
Caribbean Weather Observations
Caribbean Broadcast Corporation (TV/Radio from Antilles)
San Juan, PR Radar Long Range Radar Loop (Latest Static) Base (Static) 1 HR Rainfall (Static) Storm Total Rainfall (Static)
Various Caribbean Radio Stations
DR1 Dominican Republic Hurricanes

East Florida Links Southeast Composite Radar Loop (Latest Static) South to North:
Key West, FL Radar Long Range Radar Loop (Latest Static) Base (Static) 1 HR Rainfall (Static) Storm Total Rainfall (Static)
Miami, FL Radar Long Range Radar Loop (Latest Static) Base (Static) 1 HR Rainfall (Static) Storm Total Rainfall (Static)
Melbourne, FL Radar Long Range Radar Loop (Latest Static) Base (Static) 1 HR Rainfall (Static) Storm Total Rainfall (Static)
Jacksonville, FL Radar Long Range Radar Loop (Latest Static) Base (Static) 1 HR Rainfall (Static) Storm Total Rainfall (Static)

Caribbean/South East Coast Satellite Imagery

SFWMD Radar Loop of South Florida with storm Track

SFWMD Full Florida Radar Loop with Storm Track

Area Forecast Discussions: FLorida Keys - Miami/South Florida - Melbourne/East Central Florida - Jacksonville/Northeast Florida -

Latest
Flhurricane Facebook Page
updates -
See More Updates...
Good evening and good morning.... the upper level pattern over the CONUS is not conducive for any tropical weather system to approach the Eastern United States for the foreseeable future. Anything that approaches will undergo recurvature assuming there is any degree of development. 96L way out there in the Atlantic does appear on both the GFS and Euro and will be in the neighborhood in about one week and while the longwave trough over the Eastern United States remains, it won't be as deep or in latitude as it currently is. Attached is the GFS 500 millibar relative vorticity chart H+168 hours (one week) Assuming this and Euro models remain fairly accurate, this system may and I stress, may pose a threat to the United States in about nine to ten days, but that's a big if this far out. Stay tuned!

General Links
Inside the Eye - Official National Hurricane Center Blog
Skeetobite's storm track maps
NRL-Monterey (Nice Tracking Maps and Satellite)
USNO Information on Current Storms (including Google Earth KMZ Files)

Experimental forecast storm probabilities from Dr. Alan Brammer

Goes 16 Satellite Images (new for 2017)
College of DuPage Animated Goes 16 loop of Gulf of Mexico

Large Color Southeast Satellite Image

Interactive Wundermap
San Jose State Models and More
Animated Earth Wind view of Tropical Atlantic

NOAA Historical Track Maps - Create your own tracking maps.

Check the Storm Forum from time to time for comments on any new developing system.

Follow worldwide SST evolution here: Global SST Animation - SST Forecast.

Storms From Previous Years (Unisys)

IR - Vis - WV - Loop - TWC IR - Color IR - Loop - SSTs - Buoy
NASA MSFC North Atlantic Visible (Daytime Only), Infrared, Water Vapor
LSU Sat images, RAMSDIS Satellite Images (rapid-scan imagery)
Full Western Hemisphere Sat Animation

Buoy Data, Dvorak Estimates

Caribbean Weather Observations

Some forecast models:
NHC/TAFB Experimental Gridded Marine Forecast

GFS, ECMWF (ECMWF) and ECMWF Tropical Tidbits model page (GFS + more)
FSU: CMC, GFDL, GFS, NOGAPS, HWRF; Phase Analysis
DoD Weather Models (NOGAPS, AVN, MRF)
GFS, RUC, ETA
FIM Model
American Weather/Raleighwx model page, Instant Weather Maps Models
Tropical Tidbits (Levi Cowan), Jeff Masters (Weather Underground) , Hurricanetrack.com (Mark Sudduth), Hurricane City (Jim Williams) , Mike Watkins / HurricaneAnalytics.com, WXRisk, TropicalAtlantic, Gary Gray's Millennium Weather, storm2k, Hardcoreweather, StormPulse (Matthew Wensing), , Mike's Weather Page, Greg Nordstrom, Gulf Coast Weather, American Weather - 28 Storms Ham Weather, Suncam TV (Streaming Video/cams), Robert Lightbown/Crown Weather Tropical Update

NOAA Weather Radio

Flhurricane Ustream Video Stream (Active only in certain events)

CFHC Weather Stations: Orlando (Universal) - Cocoa (Lake Poinsette) -
Even more on the links page.