Conditions for development in the W Atlantic begin turning favorable again
Posted: 12:01 AM 14 November 2023 | | Add Comment
10PM EDT Update 20 November 2023
The marginally favorable W Atlantic continues late into the official season, buoyed by record warm waters in the Atlantic and not yet toned down in any normal sense of the word by a developing strong El Niño in the eastern Pacific.
Tonight we begin tracking two more areas of interest. First and closest to land, newly Invest-tagged 99L in the central Caribbean is a small, but fairly well-defined area of low pressure. Second, southeast of Bermuda an area of low pressure is developing along a front and is expected to begin acquiring at least some subtropical or tropical characteristics as it travels southeast across the subtropical Atlantic.
6:30PM EDT Update 17 November 2023
High shear has begun taking over the Western Atlantic once more, and while we did see a near hurricane-force
hybrid
low over S Florida, the system with the better chance of becoming an actual named, tropical storm, Invest 98L, is being held in check by increasingly prohibitive levels of southwesterly shear and dry air.
While development of Potential Tropical Cyclone 22 into a subtropical or tropical storm is becoming unlikely, heavy rains, some gale-force winds and flood threats across Jamaica, southeastern Cuba, and Hispaniola will continue, with totals as high as 16" in spots likely to produce life-threatening flash flooding and mudslides.
11:50PM EDT Update 15 November 2023
The non-tropical Gulf of Mexico low pressure area we have been tracking has, as forecast, spun-out a rather stout hybrid low pressure area presently situated over the south Florida Keys. Sustained winds have been well into tropical storm force, with stronger gusts. This area of low pressure is not yet Invest-tagged, but presents a concern especially for those along the coasts, in the Keys and on and offshore from south and east Florida.
Flooding is becoming a top concern in South Florida as amounts may approach double digits, and power outages from the wind are accruing.
We now have a Forecast Lounge up on this feature, as well as on that of Invest 98L in the Caribbean.
Original Update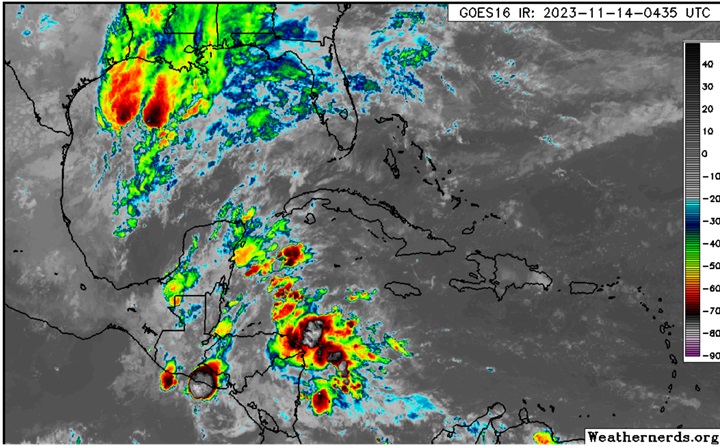 Two developing features in the Western Atlantic have the potential to become named cyclones this week. First, an area of broad low pressure is starting to take shape in the southwestern Caribbean, which is a favored area for tropical cyclone genesis this time of the year. Second, the non-tropical coastal low in the northern GOM may split off, with a hybrid to tropical low possible off the east coast of Florida by Thursday or Friday.
At present, NHC is not yet mentioning the northern GOM low, but does have a 70% (High) probability for the model-forecast Caribbean low to develop.
There is a chance that one or both of these could become a strong storm or even a low-end hurricane while close to land in the Western Atlantic, although the odds of any truly serious development appear to be higher once both are more out to sea.
We do already have a Forecast Lounge up on the model-progged Caribbean cyclone
22L Forecast Lounge
S Florida/Keys Coastal Low Lounge
99L Event Related Links
SFWMD Model Plot (Animated Model Plot) SFWMD Hurricane Page

[https://flhurricane.com/floatanimator.php?year=2023&storm=99 Flhurricane Satellite Floater Animation of Invest 99
GOES Floater
Animated Skeetobite Model Plot of Invest 99


Clark Evans Track Model Plot of Invest 99 (Animated!) Model Plots in Google Earth - In Google Maps
Clark Evans Intensity Model Plot of Invest 99 (Animated!)
Clark Evans Track Plot of Invest 99
Clark Evans Top 10 Analog Storms for Invest 99
More model runs on from RAL/Jonathan Vigh's page
NRL Info on Invest 99 -- RAMMB Info
COD Atlantic Satellite View



Potential Tropical Cyclone 22L Event Related Links

SFWMD Model Plot (Animated Model Plot) SFWMD Hurricane Page

[https://flhurricane.com/floatanimator.php?year=2023&storm=22 Flhurricane Satellite Floater Animation of TWENTY-TWO
GOES Floater
Animated Skeetobite Model Plot of TWENTY-TWO


Clark Evans Track Model Plot of TWENTY-TWO (Animated!) Model Plots in Google Earth - In Google Maps
Clark Evans Intensity Model Plot of TWENTY-TWO (Animated!)
Clark Evans Track Plot of TWENTY-TWO
Clark Evans Top 10 Analog Storms for TWENTY-TWO
More model runs on from RAL/Jonathan Vigh's page
NRL Info on TWENTY-TWO -- RAMMB Info
COD Atlantic Satellite View


Tweets by cfhc