As July Begins to Wrap Up, Activity in the Atlantic Restarts
Posted: 09:32 AM 27 July 2016 | | Add Comment
The first cape verde type wave of the 2016 Hurricane Season, 96L, has a 20% chance to form into a tropical storm or depression over the next 5 days, and about a 10% chance to form within the next two.
This system is far from land and has a great deal of hurdles to overcoming as it crosses the Atlantic. This is fairly early, but not unheard of, for a storm from that region to potentially form, It currently is located just west of the African shoreline moving west.
Most of the models don't develop it much, or really keep it alive for terribly long, but weaker long-track systems tend to track more southerly so it will be worth monitoring over the next week or two. It is possible other waves may show up next week as well. Things may transition to being very busy by Mid-August.
One of the largest factors likely to keep this system weak, or possibly tear it up later is the high level of SAL (Saharan Air Layer) present right now, in fact it's the cause of it being lost by some models. This high SAL should fall apart by mid-late August, which opens the door to things becoming busy then.
There is plenty of time to watch 96L, and the possibility of other systems into August.
More speculation available in the
Forecast Lounge
.
.
96L Wave in East Atlantic Event Related Links

Animated Skeetobite Model Plot of 96L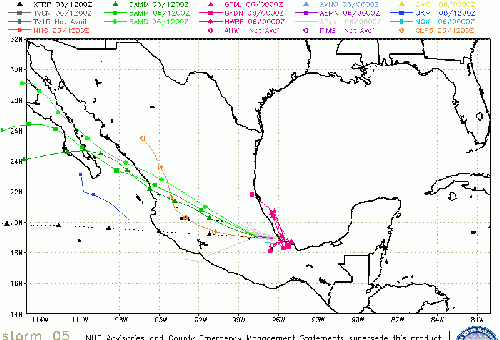 SFWMD Model Plot (Animated Model Plot) SFWMD Hurricane Page
Clark Evans Track Model Plot of 96L (Animated!) Model Plots in Google Earth - In Google Maps
Clark Evans Intensity Model Plot of 96L (Animated!)
Clark Evans Top 10 Analog Storms for 96L
More model runs on from RAL/Jonathan Vigh's page
NRL Info on 96L -- RAMMB Info

Floater Satellite Images: Visible (Loop), IR (Loop), WV (Loop), Dvorak (Loop), AVN (Loop), RGB (Loop), Rainbow (Loop), Funktop (Loop), RB Top Loop)


Ed Dunham
Does A Preseason Storm Suggest A Busy Season?
Posted: 01:26 PM 04 July 2016
The short answer is 'not necessarily'. By established definition, the Atlantic Hurricane season (which is more properly the Atlantic Tropical Cyclone season) begins on June 1st and ends on November 30th. The total number of Tropical Storms (including Subtropical Storms) and Hurricanes are recorded for the calendar year. Preseason Tropical Storms and Hurricanes - activity prior to June 1st - and post season events during December are included in the annual totals, but using a Calendar Year to determine seasonal activity does have some flaws from a meteorological perspective. The rare Tropical Storms and Hurricanes that occur in January and February are recorded as preseason early activity for the current year but these events are really post-season events, i.e., they represent an extension of the meteorological conditions that prevailed during the previous calendar year.

If you examine all of the years that recorded a preseason event, some of them must be discarded. The February storm in 1952 and the January storm in 1978 were post-season events of the prior year. (Note that in 2016, Hurricane Alex (January) was a 2015 post-season storm, but TS Bonnie (May) qualifies 2016 as a preseason year.) In 1916 and 1934, the storms in May were later reclassified as extratropical systems. In 1997 the system defined on May 31st did not become a tropical cyclone (actually a TS) until June 1st so it really wasn't a preseason event. Finally in 2007 the first storm in May was reclassified as extratropical and the second system on May 31st did not become a TS until June 1st.

1887 and 2012 had two storms in May and 1908 had one storm in March (probably the 1908 season rather than the previous year) and one storm in May. 1992 and 2003 each had a storm in April and 16 other seasons had a preseason storm in May (1865, 1889, 1890, 1932, 1933, 1940, 1948, 1951, 1953, 1959, 1970, 1972, 1976, 1981, 2008 and 2015). Therefore in the 165 seasons from 1851 through 2015 there were 21 of them that had preseason activity - which is 12.7 percent of all seasons. The average storm totals for those 21 seasons: 11.2 named storms, 6 hurricanes - 2 of which became major hurricanes (Cat III or greater). Six of those seasons ended up with 10-12 named storms (an average season); 8 of those seasons had 9 named storms or less (a quieter season); 7 of those seasons had 13 named storms or more (an active season). From a climatological standpoint, a preseason storm has no impact on what the final seasonal numbers will be. Even in the 51 years of the satellite era, the 9 preseasons averaged 11.6 named storms with 3 seasons of normal activity, 3 seasons of below normal activity and 3 seasons of above normal activity.
ED
General Links
Inside the Eye - Official National Hurricane Center Blog
Skeetobite's storm track maps
NRL-Monterey (Nice Tracking Maps and Satellite)
USNO Information on Current Storms (including Google Earth KMZ Files)
Large Color Southeast Satellite Image
Interactive Wundermap
San Jose State Models and More
Animated Earth Wind view of Tropical Atlantic
NOAA Historical Track Maps
- Create your own tracking maps.
Check the
Storm Forum
from time to time for comments on any new developing system.
Follow worldwide SST evolution here:
Global SST Animation
-
SST Forecast
.
Storms From Previous Years (Unisys)
IR
-
Vis
-
WV
-
Loop
-
TWC IR
-
Color IR
-
Loop
-
SSTs
-
Buoy
NASA MSFC North Atlantic Visible (Daytime Only)
,
Infrared
,
Water Vapor
LSU Sat images
,
RAMSDIS Satellite Images (rapid-scan imagery)
Full Western Hemisphere Sat Animation
Buoy Data
,
Dvorak Estimates
Caribbean Weather Observations
Some forecast models:
NHC/TAFB Experimental Gridded Marine Forecast
GFS
,
ECMWF
(
ECMWF
) and
ECMWF
Tropical Tidbits model page (GFS + more)
FSU:
CMC, GFDL, GFS, NOGAPS, HWRF
;
Phase Analysis
DoD Weather Models (NOGAPS, AVN, MRF)
GFS, RUC, ETA
FIM Model
American Weather/Raleighwx model page
,
Instant Weather Maps Models
Other commentary from
Tropical Tidbits (Levi Cowan)
,
Jeff Masters (Weather Underground)
,
Hurricanetrack.com (Mark Sudduth)
,
Hurricane City (Jim Williams)
,
Mike Watkins / HurricaneAnalytics.com
,
WXRisk
,
TropicalAtlantic
,
Gary Gray's Millennium Weather
,
storm2k
,
Hardcoreweather
,
StormPulse (Matthew Wensing)
, ,
Mike's Weather Page
,
Greg Nordstrom
,
Gulf Coast Weather
,
American Weather
-
28 Storms
Ham Weather
,
Suncam TV (Streaming Video/cams)
,
Robert Lightbown/Crown Weather Tropical Update
NOAA Weather Radio
Flhurricane Ustream Video Stream (Active only in certain events)
CFHC Weather Stations:
Orlando (Universal)
-
Cocoa (Lake Poinsette)
-
Even more on the links page.