Dangerous September Underway
5PM EDT Update 24 September 2022 Update
Ian's poised to intensify tomorrow, but remains a 45mph storm today. The center may be reforming, northwest of the current position. The future track is highly uncertain beyond 3 days with models even more spread out than earlier. Anyone in the cone should prepare for the system, but hopefully we'll know more once it gets closer to Caymans, probably Monday morning.
"The track forecast is still highly uncertain at days 4-5, with the GFS and ECMWF positions
about 200 n mi apart by 96 h. There is significant spread noted even among the GFS ensemble members, with positions that range from the north-central Gulf of Mexico to the west coast of Florida. Hopefully, data collected from special radiosonde releases and a
NOAA G-IV flight this evening will help better resolve the steering flow around Ian and the deep-layer trough that is forecast to be over the eastern U.S. early next week."
Gaston is still continuing on, but Hermine has weakened to a depression.
9AM EDT Update 24 September 2022 Update
Tropical Storm Ian is going through bit of a reformation process, this morning, slightly further south. But the track is generally correct. Conditions for Ian improve greatly tomorrow beyond Jamaica, so it will likely intensify at that point. The forecast track cone is important in this one since slight variations could change the track either direction, so more so than usual don't focus on the track line in the middle. Surge impacts along the coast also depend greatly which direction and side the storm crosses since the water is generally driven by the wind direction. If landfall were south of Tampa, for instance, water would be driven out of the bay and surge flooding wouldn't be bad there, but worse for those south/right of the eye. If the storm went directly over or just to the north, surge flooding would be worse in the bay. The cone range is from the Keys to Apalachicola right now. Track shifts are likely
The further north the system would get the more it runs into shear associated with a front, so if it were to get in the northern parts of the Gulf, it would likely weaken before landfall.
Any watches for Florida likely wouldn't show up until tomorrow night or Monday morning.
Fiona made landfall as an extra tropical storm in Canada overnight, much of the wind trailed the rain shield. But there are reports of damage in eastern Nova Scotia.
Gaston is expected to become extra tropical today.
Hermine is bringing rain to the Canary Islands and likely will hang around for another few days.
11PM EDT Update 23 September 2022 Update
Tropical Storm Ian has formed from TD#9, and Tropical Storm Watches are up for Jamaica, and Hurricane Watches are up for the Cayman Islands.
Beyond this Cuba and the West Coast of Florida are in the cone. Florida Landfall, based on this track, would be a category 3 hurricane Overnight Tuesday to Wednesday morning along the coast Between Fort Myers and Sarasota, however, anywhere in the Cone should make preparations this weekend.
Fiona has become a very power extratropical System and is moving over Nova Scotia tonight.
Gaston is over the Western Azores, bringing low end tropical storm force winds.
Hermine is off the coast of Africa and expected to hang around just a few days before dissipating.
Original Update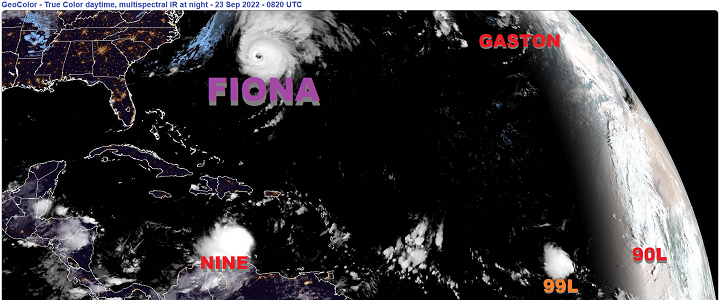 After the stunningly quiet August, multiple storms are now impacting and threatening land. Major Hurricane Fiona is presently lashing Bermuda and potentially set to become a record-setting hybrid cyclone in coastal Canada this weekend. Tropical Storm conditions are affecting the Azores with Gaston. And in the southern Caribbean, the stout wave we have been tracking (tagged 98L) has become the ninth real-time officiated tropical cyclone of the 2022 Atlantic Hurricane Season, and this is one Floridians in particular are watching.
After inconsistent development and track trends, TD 9 has formed in a region that given all known knowns and known unknowns, is more likely than not to become a very significant tropical cyclone and one that could ultimately impact Florida in a very serious way. This far out, speculation belongs in model-talk, and we do have have lounges up for both Fiona and TD9, where modelling is often discussed in greater detail:
Fiona Forecast Lounge
TD9 Forecast Lounge
, but it is already looking more likely than not that NINE will threaten the US Southeast, and very possibly Florida.
Elsewhere, Invest 90L is odds-on to become a tropical cyclone that impacts the Cabo Verde Islands by the end of this week, and 99L west of there has model support for development too, but that one may stay a fish storm.
Fiona Event Related Links
SFWMD Model Plot (Animated Model Plot) SFWMD Hurricane Page

[https://flhurricane.com/floatanimator.php?year=2022&storm=7 Flhurricane Satellite Floater Animation of Fiona
GOES Floater
Animated Skeetobite Model Plot of Fiona


Clark Evans Track Model Plot of Fiona (Animated!) Model Plots in Google Earth - In Google Maps
Clark Evans Intensity Model Plot of Fiona (Animated!)
Clark Evans Track Plot of Fiona
Clark Evans Top 10 Analog Storms for Fiona
More model runs on from RAL/Jonathan Vigh's page
NRL Info on Fiona -- RAMMB Info
COD Atlantic Satellite View


Gaston Event Related Links

SFWMD Model Plot (Animated Model Plot) SFWMD Hurricane Page

[https://flhurricane.com/floatanimator.php?year=2022&storm=8 Flhurricane Satellite Floater Animation of Gaston
GOES Floater
Animated Skeetobite Model Plot of Gaston


Clark Evans Track Model Plot of Gaston (Animated!) Model Plots in Google Earth - In Google Maps
Clark Evans Intensity Model Plot of Gaston (Animated!)
Clark Evans Track Plot of Gaston
Clark Evans Top 10 Analog Storms for Gaston
More model runs on from RAL/Jonathan Vigh's page
NRL Info on Gaston -- RAMMB Info
COD Atlantic Satellite View


Ian Event Related Links

SFWMD Model Plot (Animated Model Plot) SFWMD Hurricane Page

[https://flhurricane.com/floatanimator.php?year=2022&storm=9 Flhurricane Satellite Floater Animation of Ian
GOES Floater
Animated Skeetobite Model Plot of Ian


Clark Evans Track Model Plot of Ian (Animated!) Model Plots in Google Earth - In Google Maps
Clark Evans Intensity Model Plot of Ian (Animated!)
Clark Evans Top 10 Analog Storms for Ian
More model runs on from RAL/Jonathan Vigh's page
NRL Info on Ian -- RAMMB Info
COD Atlantic Satellite View


Hermine Event Related Links

SFWMD Model Plot (Animated Model Plot) SFWMD Hurricane Page

[https://flhurricane.com/floatanimator.php?year=2022&storm=10 Flhurricane Satellite Floater Animation of Hermine
GOES Floater
Animated Skeetobite Model Plot of Hermine


Clark Evans Track Model Plot of Hermine (Animated!) Model Plots in Google Earth - In Google Maps
Clark Evans Intensity Model Plot of Hermine (Animated!)
Clark Evans Track Plot of Hermine
Clark Evans Top 10 Analog Storms for Hermine
More model runs on from RAL/Jonathan Vigh's page
NRL Info on Hermine -- RAMMB Info
COD Atlantic Satellite View


Invest 99L Event Related Links

SFWMD Model Plot (Animated Model Plot) SFWMD Hurricane Page

[https://flhurricane.com/floatanimator.php?year=2022&storm=11 Flhurricane Satellite Floater Animation of 99L
GOES Floater
Animated Skeetobite Model Plot of 99L


Clark Evans Track Model Plot of 99L (Animated!) Model Plots in Google Earth - In Google Maps
Clark Evans Intensity Model Plot of 99L (Animated!)
Clark Evans Top 10 Analog Storms for 99L
More model runs on from RAL/Jonathan Vigh's page
NRL Info on 99L -- RAMMB Info
COD Atlantic Satellite View


Florida Emergency Management

Tampa Area Media:
970 WFLA Tampa News/Talk Radio
Southwest Florida (Naples/Ft.Myers) Area Media:
WCCF News Radio 1580 Port Charlotte
Naples Daily News
News Media (South Florida):
Television:
Newspapers:
News Radio:
Check local media and officials when a storm is approaching your area.
Northeast Gulf Links Southeast Composite Radar Loop (Latest Static)
Tampa Bay, FL Radar Radar Loop (Latest Static)
Key West, FL Radar Radar Loop (Latest Static)
Mobile, AL Radar Radar Loop (Latest Static)
Tallahassee FL Radar Radar Loop (Latest Static)
Northwest Florida Radar Radar Loop (Latest Static)
Gulf of Mexico Satellite Imagery
SFWMD Full Florida Radar (Includes east LA, MS,AL) Loop with Storm Track
Area Forecast Discussions: New Orleans - Mississippi/Alabama/Pensacola - Panhandle/Tallahassee - Tampa/West Central Florida
News Media (East Central Florida):
Television:
Newspapers:
News Radio:
Check local media and officials when a storm is approaching your area.

Florida Power Outage Maps
Duke Energy Florida Outage Map - Most of Central and Northern Florida
Florida Power and Light Outage Map (Much of South Florida)
Orlando Utilities Commision Outage Map
Gulf Power (Western Panhandle)
Clay Electric Outage Map (Gainsville/ North Central Florida area)
Peace River Electrical Cooperative outage map south Central Florida from east of Bradenton, north of North Port to West of Palm Bay and Vero Beach


StormCarib Reports from the Caribbean Islands
Caribbean Weather Observations
Full Caribbean Radar Composite
Caribbean Broadcast Corporation (TV/Radio from Antilles)
Various Caribbean Radio Stations
Tweets by cfhc