Second Half of June: Tropical Storm Bonnie and Invests
6:AM EDT 2 July 2022 Update
NHC has upgraded 96L to Tropical Storm Colin this morning. A Tropical Storm Warning has been issued from South Santee River,
South Carolina, to Duck, North Carolina, including Pamlico Sound.
11:55PM EDT 1 July 2022 Update
We're adding more info to the Main Page and have started a Forecast Lounge on Invest 96L, as a tropical storm may be forming. Should for some reason 96L not get upgraded, functionally strong T.D. if not Tropical Storm conditions are now underway in and around and increasingly offshore of Charleston, S.C., regardless.
Colin Forecast Lounge
6:30PM EDT 1 July 2022 Update
Bonnie continues to organize heading towards landfall later tonight near the Nicaragua and Costa Rica border. Recon is currently starting to sample the cyclone and will have a better handle on how strong it is and will become before crossing Central America and continuing on in the East Pac.
Elsewhere, old Invest 95L hasn't given up the ghost and is bringing lots of rain and some flooding to the upper Texas coast and southwestern Louisiana. Now mostly inland, further development is not anticipated, but it was close.
Off the southeast coast, we now have newly Invest-tagged 96L that for all practical intents and purposes is yet another walks like a duck, quacks like a duck system this season, but is conservatively outlooked officially, likely owing to the relatively high pressures in the region, its ongoing fight with shear, and close proximity to land. Would treat it as a T.D. if going to the beach, however.
12:30PM EDT 1 July 2022 Update
Quick update to add that one of the numerous perky disturbances we have been tracking this past week has developed into an area of well-defined low pressure just offshore GA/SC and is worth closely monitoring. So far this season has had a great deal more disturbances and "almost-theres" than is typical early on, with at least two of these perhaps candidates for review by NHC post-season.
11:00AM EDT 1 July 2022 Update
Potential Tropical Cyclone 2 continued to organize overnight and recon has determined that at long last it has finally organized sufficiently into a tropical cyclone, Tropical Storm Bonnie.
Elsewhere, Invest 95L has pushed into the upper TX coast and devolved into a trof again, with no development expected.
NHC:
The government of Nicaragua has discontinued the Hurricane Watch for the Caribbean coast and issued a Tropical Storm Warning for the Pacific coast.
The government of Costa Rica has upgraded the Tropical Storm Watchto a Tropical Storm Warning for a portion of the Pacific coast.
SUMMARY OF WATCHES AND WARNINGS IN EFFECT:
A Tropical Storm Warning is in effect for...
* San Andres Colombia
* Limon Costa Rica northward to Sandy Bay Sirpi Nicaragua
* Cabo Blanco Costa Rica northward to the border of Nicaragua and Honduras
11:00AM EDT 30 June 2022 Update
Recon is flying into Invest 95L off the Texas coast as well as PTC2 just now entering the southwestern Caribbean to help determine the internal structure of these systems and collect data on the atmosphere they are in.
Morning light suggests that Potential Tropical Cyclone 2 is very nearly if not a tropical storm at this time, but having been fooled a few times before, NHC is cautiously awaiting reliable recon data before making any changes. A well-defined lower level center formed overnight, perhaps over the Gulf of Venezuela, and has since exited the Guajira Peninsula of northern Columbia and northwestern Venezuela. Visible satellite images as of the time of this update are suggestive of motion that is slightly north of due west, and it will be interesting to see if recon finds that this is temporary or something more enduring.
SUMMARY OF WATCHES AND WARNINGS IN EFFECT AS OF THIS UPDATE:
A Hurricane Watch is in effect for...
* Nicaragua/Costa Rica border to Laguna de Perlas Nicaragua
A Tropical Storm Warning is in effect for...
* San Andres Colombia
* Limon Costa Rica northward to Sandy Bay Sirpi Nicaragua
A Tropical Storm Watch is in effect for...
* Cabo Blanco Costa Rica northward to Puerto Sandino Nicaragua
4:00AM EDT 28 June 2022 Update
Overnight, the disturbance in the Gulf south of Louisiana has started to get a little organized, and is now Invest tagged 95L. This disturbance looks to have some chance of becoming a home-grown sleeper, and interests in the western Gulf may want to pay attention. Features in the Atlantic basin right now are unseasonably active.
We have started a Lounge on 95L for deeper dives into models and general best guesses
Invest 95L Forecast Lounge
Elsewhere, PTC2 is presently centered near near 9.3N 55.2W, with movement toward the west at about 23 mph (37 km/h). A west to west-northwest track is forecast through Thursday, with the updated NHC forecast brushing most of the Venezuela coastline, limiting development, but still bringing heavy rain and tropical storm force winds to the region, regardless.
SUMMARY OF WATCHES AND WARNINGS IN EFFECT:
A Tropical Storm Warning is in effect for...
* Trinidad and Tobago
* Grenada and its dependencies
A Tropical Storm Watch is in effect for...
* Coast of Venezuela from Pedernales to Cumana, including Islas de Margarita, Coche, and Cubagua
* Bonaire
3:00PM EDT 27 June 2022 Update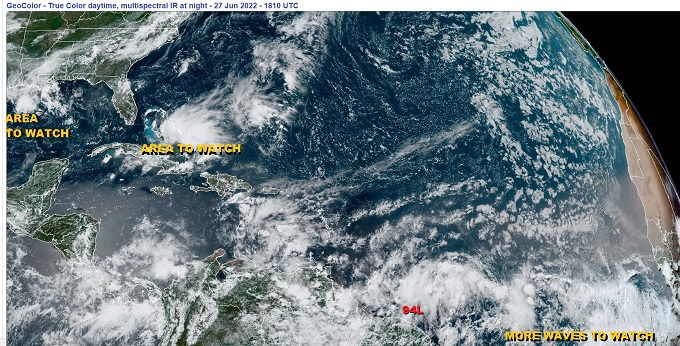 Someone forgot to tell 2022 that the middle of a season doesn't start in June, but here we are with a wave train that looks entirely from another month. With too many features to break down on a main page, the image above is probably good for the thousand words.
The immediate features worth noting individually are:
Invest 94L
Recon is now flying and Tropical Storm Watches and Warnings may be issued for portions of the Windwards and northeastern Venezuela later today or tonight, even though a well defined closed circulation is not yet apparent and it is most likely still an amplified wave, but it is indeed closing in on becoming a cyclone.
Wave behind 94L
This could very well be on its way to an Invest tag itself in short order.
Trof in the northern Gulf
, here also possibly another Invest tag soon
Trof over the Bahamas
Not a feature in the NHC 2PM Tropical Weather Outlook. Easily worth a mention later.
4:00AM EDT 26 June 2022 Update
All eyes are now east of the Caribbean with another Invest, 94L, with a HIGH chance of becoming a Tropical Cyclone within the next 5 days. Models are especially bullish on this intense tropical wave, and there is nothing obvious ahead to discount such aggressive forecasts. Interests in the Eastern Caribbean may want to begin paying closer attention.
We now have a Forecast Lounge up on 94L for open discussion and deeper dives into the models
Invest 94L Forecast Lounge
Behind 94L there is another wave that appears to have some potential to start coming together in as little as the next couple of days. The tropical wave train this past week has looked a lot more like what we expect later in the season.
Much closer, a few models want to spin up a portion of the front that is now entering the northern Gulf into a low pressure center, perhaps TD or weak TS, in the coming week and send it west. Could call it a Texas "threat," but if all it becomes is a weak named storm at most, lots of Texans might think it more of a treat given the ongoing drought.
Original Update
The second half of June begins with yet another new Invest (93L). This continues a trend of an unusually perky first month of the Atlantic Hurricane Season, and as climatology favors systems that form in the western Atlantic during any month of June, named systems are more likely than not to occur close to land at this time of year.
Invest 93L is presently located in the extreme southwestern Caribbean. NHC gives this Tropical Low a 40% chance of becoming a T.D. or T.S. within about 48-96 hours (and it is already nearly there). The system is expected to track north-northwest to northwest over the coming days, and heavy precipitation with the potential for flooding is likely over eastern Nicaragua and eastern Honduras this week, regardless of development.
Recon is tentatively scheduled to fly 93L tomorrow (Wednesday).
Texas Gulf Coast Links
[
http://moe.met.fsu.edu/~mnissenbaum/radar.html
Mark Nissenbaum's radar page} East to West:
Houston/Galveston, TX Radar Radar Loop (Latest Static)
Corpus Christi, TX Radar Radar Loop (Latest Static)
Brownsville, TX Radar Radar Loop (Latest Static)
Gulf of Mexico Satellite Imagery
Area Forecast Discussions: Houston/Galveston, TX - Corpus Christi, TX - Browsnville/South Padre Island, TX

StormCarib Reports from the Caribbean Islands
Caribbean Weather Observations
Full Caribbean Radar Composite
Caribbean Broadcast Corporation (TV/Radio from Antilles)
Various Caribbean Radio Stations
DR1 Dominican Republic Hurricanes


Tropical Storm Bonnie Event Related Links

SFWMD Model Plot (Animated Model Plot) SFWMD Hurricane Page

[https://flhurricane.com/floatanimator.php?year=2022&storm=2 Flhurricane Satellite Floater Animation of Bonnie
GOES Floater
Animated Skeetobite Model Plot of Bonnie


Clark Evans Track Model Plot of Bonnie (Animated!) Model Plots in Google Earth - In Google Maps
Clark Evans Intensity Model Plot of Bonnie (Animated!)
Clark Evans Track Plot of Bonnie
Clark Evans Top 10 Analog Storms for Bonnie
More model runs on from RAL/Jonathan Vigh's page
NRL Info on Bonnie -- RAMMB Info
COD Atlantic Satellite View



Invest 95L Event Related Links

SFWMD Model Plot (Animated Model Plot) SFWMD Hurricane Page

[https://flhurricane.com/floatanimator.php?year=2022&storm=3 Flhurricane Satellite Floater Animation of 95L
GOES Floater
Animated Skeetobite Model Plot of 95L


Clark Evans Track Model Plot of 95L (Animated!) Model Plots in Google Earth - In Google Maps
Clark Evans Intensity Model Plot of 95L (Animated!)
Clark Evans Top 10 Analog Storms for 95L
More model runs on from RAL/Jonathan Vigh's page
NRL Info on 95L -- RAMMB Info
COD Atlantic Satellite View



Tropical Storm Colin Event Related Links

SFWMD Model Plot (Animated Model Plot) SFWMD Hurricane Page

[https://flhurricane.com/floatanimator.php?year=2022&storm=3 Flhurricane Satellite Floater Animation of Colin
GOES Floater
Animated Skeetobite Model Plot of Colin


Clark Evans Track Model Plot of Colin (Animated!) Model Plots in Google Earth - In Google Maps
Clark Evans Intensity Model Plot of Colin (Animated!)
Clark Evans Track Plot of Colin
Clark Evans Top 10 Analog Storms for Colin
More model runs on from RAL/Jonathan Vigh's page
NRL Info on Colin -- RAMMB Info
COD Atlantic Satellite View





Tweets by cfhc