Tropical Storm Nestor in NE Gulf
2:00PM EDT Update 18 October 2019
SIXTEEN has become Tropical Storm Nestor. Nestor is a hybridish tropical storm, but tropical enough to qualify. More importantly, the impacts from this cyclone are going to be much more in line with that of a strong tropical storm - and perhaps yet still a hurricane - than garden variety subtropical storms, although very lopsided, with most of the worst weather on the eastern side, for now.
10:00 AM EDT Update 17 October 2019
96L is expected to become a named storm later today or tonight, and NHC advisories have been issued for what is now PTC SIXTEEN.
A Tropical Storm Warning is in effect from the Mississippi/Alabama border to the Ochlockonee River, Florida.
A Tropical Storm Warning is in effect from Grand Isle, Louisiana to the Mouth of the Pearl River.
A Tropical Storm Watch is in effect east of the Ochlockonee River to Yankeetown, Florida.
A Storm Surge Watch is in effect from Indian Pass, Florida, to Clearwater, Florida.
Northeast Gulf Links
Southeast Composite Radar Loop
(
Latest Static
)
Tampa Bay, FL Radar Long Range Radar Loop (Latest Static) Base (Static) 1 HR Rainfall (Static) Storm Total Rainfall (Static)
Key West, FL Radar Long Range Radar Loop (Latest Static) Base (Static) 1 HR Rainfall (Static) Storm Total Rainfall (Static)
Mobile, AL Radar Long Range Radar Loop (Latest Static) Base (Static) 1 HR Rainfall (Static) Storm Total Rainfall (Static)
Tallahassee FL Radar Long Range Radar Loop (Latest Static) Base (Static) 1 HR Rainfall (Static) Storm Total Rainfall (Static)
Northwest Florida Radar Long Range Radar Loop (Latest Static) Base (Static) 1 HR Rainfall (Static) Storm Total Rainfall (Static)
Gulf of Mexico Satellite Imagery
SFWMD Full Florida Radar (Includes east LA, MS,AL) Loop with Storm Track
Area Forecast Discussions: New Orleans - Mississippi/Alabama/Pensacola - Panhandle/Tallahassee - Tampa/West Central Florida

Original Update



Conditions for subtropical and tropical cyclone development closer to home are on the rise climatologically in mid to late October, and right on cue we have a concerning trof in the southwestern Gulf, having split off from the same parent Central American feature that went on to also spin out PTC SEVENTEEN in the eastern Pacific yesterday.

Now over the very warm waters of the Bay of Campeche, 96L is showing signs of pulling things together at a somewhat faster clip, and as of this post, NHC gives it a coin toss of becoming a subtropical or tropical cyclone within just the next 48 hours.

Nestor Forecast Lounge: Nestor

Tropical Storm Nestor Event Related Links

Flhurricane Satellite Floater Animation of of Nestor - New for 2018


Animated Skeetobite Model Plot of Nestor

SFWMD Model Plot (Animated Model Plot) SFWMD Hurricane Page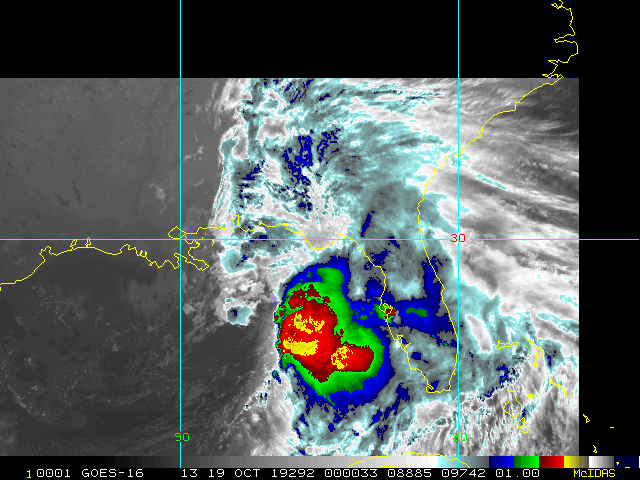 Clark Evans Track Model Plot of Nestor (Animated!) Model Plots in Google Earth - In Google Maps
Clark Evans Intensity Model Plot of Nestor (Animated!)
Clark Evans Track Plot of Nestor
Clark Evans Top 10 Analog Storms for Nestor
More model runs on from RAL/Jonathan Vigh's page
NRL Info on Nestor -- RAMMB Info

Floater Satellite Images: Visible (Loop), IR (Loop), WV (Loop), Dvorak (Loop), AVN (Loop), RGB (Loop), Rainbow (Loop), Funktop (Loop), RB Top Loop)


Latest
Flhurricane Facebook Page
updates -
See More Updates...
Local statement for E. Central Florida from Melbourne NWS office:

SITUATION OVERVIEW
------------------

Extremely powerful Hurricane Dorian continues meandering over the
northwestern Bahamas as its eye wall continues to pound Grand Bahama
and Great Abaco islands this morning. The situation remains very
serious for east central Florida, and especially the coastal counties
of Martin, Saint Lucie, Indian River, Brevard and Volusia.

Dorian is an extremely dangerous Category 4 hurricane with winds near
155 mph. Dorian will slowly emerge north of Grand Bahama Island later
today, and begin to move very slowly toward the northwest and closer
to east central Florida through tonight. As Dorian slowly begins to
make its closest approach to east central Florida, it is expected to
turn north-northwest and parallel the coast from Tuesday into
Wednesday.

Although it remains uncertain just how close the eye of Dorian will
get to the Florida east coast, the threat of damaging winds and life-
threatening storm surge remains high. There will be considerable
impacts and damage to coastal areas, with at least some effects felt
inland as well!

Strong tropical storm force winds between 40 and 55 mph, with gusts to
hurricane force, will spread north into Martin and Saint Lucie
Counties starting by this evening, then spread farther north into
Indian River County after midnight, and then across Brevard and
coastal Volusia Counties Tuesday through Tuesday night. The threat for
damaging winds is high for the coastal counties and any remaining
preparations for Dorian should be rushed to completion before strong
winds move into the area!

Inland communities will also have an increased threat for tropical
storm force winds, especially in eastern Okeechobee, Osceola, Orange
and Seminole Counties, as well as inland Volusia County. These strong
winds will reach Okeechobee and Osceola Counties beginning early
Tuesday morning. Farther north over the interior, winds to near
tropical storm force will begin Tuesday afternoon. Thus, a Tropical
Storm Warning has been issued for Orange, Seminole, Lake, and Inland
Volusia Counties. This will be a long duration event, with the worst
conditions lasting 18 to 24 hours!

The threat for life-threatening storm surge also remains high, and
severe erosion of the beaches and dune lines is a near certainty! The
combination of surge and high astronomical tides will cause severe
runup of waves and water, resulting in inundation of many coastal
locations. Surge may reach 4 to 7 feet above ground near the coast.

Large battering waves and higher than normal tides on top of the surge
will add to the destructive force of the water during several high
tide cycles. Needless to say, entering the water can be deadly as
there will also be numerous strong rip currents, in addition to the
very large breaking waves that will build in excess of 10 feet.

Heavy rainfall is forecast over east central Florida from Dorian, with
total amounts of 4 to 8 inches over the coastal counties and 3 to
6 inches inland, with maximum isolated rainfall amounts up to
10 inches along the coast. While isolated flash flooding will be
possible inland, it will be even more likely near the coast in urban
and poorly drained, low lying areas. Flooding and high water levels on
area rivers such as the Saint Johns River will be aggravated.

While threat remains low, isolated tornadoes will be possible in
squalls as they move onshore along the coast this afternoon through
Tuesday.

POTENTIAL IMPACTS
-----------------

* WIND:
Protect against life-threatening wind having possible extensive
impacts across the coastal counties of Volusia, Brevard, Indian River,
Saint Lucie and Martin. Potential impacts in this area include:

- Considerable roof damage to sturdy buildings, with some having
window, door, and garage door failures leading to structural
damage. Mobile homes severely damaged, with some destroyed.
Damage accentuated by airborne projectiles. Locations may be
uninhabitable for weeks.
- Many large trees snapped or uprooted along with fences and
roadway signs blown over.
- Some roads impassable from large debris, and more within urban
or heavily wooded places. Several bridges, causeways, and
access routes impassable.
- Large areas with power and communications outages.

Also, protect against dangerous wind having possible limited to
significant impacts across the interior counties of Okeechobee,
Osceola, Orange, Seminole and inland Volusia.

* SURGE:
Protect against life-threatening surge having possible extensive
impacts from Flagler Beach to Jupiter Inlet. Potential impacts in this
area include:

- Large areas of deep inundation with storm surge flooding
accentuated by battering waves. Structural damage to buildings,
with several washing away. Damage compounded by floating
debris. Locations may be uninhabitable for an extended period.
- Large sections of near-shore escape routes and secondary roads
washed out or severely flooded. Flood control systems and
barriers may become stressed.
- Severe beach erosion with significant dune loss.
- Major damage to marinas, docks, boardwalks, and piers. Many
small craft broken away from moorings, especially in
unprotected anchorages with some lifted onshore and stranded.

* FLOODING RAIN:
Protect against dangerous rainfall flooding having possible significant
impacts across all of east central Florida, with the threat remaining
highest along coastal areas. Potential impacts include:

- Moderate rainfall flooding may prompt several evacuations and
rescues.
- Rivers and tributaries may quickly become swollen with swifter
currents and overspill their banks in a few places, especially
in usually vulnerable spots. Small streams, creeks, canals,
arroyos, and ditches overflow.
- Flood waters can enter some structures or weaken foundations.
Several places may experience expanded areas of rapid
inundation at underpasses, low-lying spots, and poor drainage
areas. Some streets and parking lots take on moving water as
storm drains and retention ponds overflow. Driving conditions
become hazardous. Some road and bridge closures.

* TORNADOES:
Protect against a tornado event having possible limited impacts in the
coastal counties of Volusia, Brevard, Indian River, Saint Lucie and
Martin. Potential impacts include:

- The occurrence of isolated tornadoes can hinder the execution
of emergency plans during tropical events.
- A few places may experience tornado damage, along with power
and communications disruptions.
- Locations could realize roofs peeled off buildings, chimneys
toppled, mobile homes pushed off foundations or overturned,
large tree tops and branches snapped off, shallow-rooted trees
knocked over, moving vehicles blown off roads, and small boats
pulled from moorings.
General Links
Inside the Eye - Official National Hurricane Center Blog
Skeetobite's storm track maps
NRL-Monterey (Nice Tracking Maps and Satellite)
USNO Information on Current Storms (including Google Earth KMZ Files)

Experimental forecast storm probabilities from Dr. Alan Brammer

Goes 16 Satellite Images (new for 2017)
College of DuPage Animated Goes 16 loop of Gulf of Mexico

Large Color Southeast Satellite Image

Interactive Wundermap
San Jose State Models and More
Animated Earth Wind view of Tropical Atlantic

NOAA Historical Track Maps - Create your own tracking maps.

Check the Storm Forum from time to time for comments on any new developing system.

Follow worldwide SST evolution here: Global SST Animation - SST Forecast.

Storms From Previous Years (Unisys)

IR - Vis - WV - Loop - TWC IR - Color IR - Loop - SSTs - Buoy
NASA MSFC North Atlantic Visible (Daytime Only), Infrared, Water Vapor
LSU Sat images, RAMSDIS Satellite Images (rapid-scan imagery)
Full Western Hemisphere Sat Animation

Buoy Data, Dvorak Estimates

Caribbean Weather Observations

Some forecast models:
NHC/TAFB Experimental Gridded Marine Forecast

GFS, ECMWF (ECMWF) and ECMWF Tropical Tidbits model page (GFS + more)
FSU: CMC, GFDL, GFS, NOGAPS, HWRF; Phase Analysis
DoD Weather Models (NOGAPS, AVN, MRF)
GFS, RUC, ETA
FIM Model
American Weather/Raleighwx model page, Instant Weather Maps Models
Tropical Tidbits (Levi Cowan), Jeff Masters (Weather Underground) , Hurricanetrack.com (Mark Sudduth), Hurricane City (Jim Williams) , Mike Watkins / HurricaneAnalytics.com, WXRisk, TropicalAtlantic, Gary Gray's Millennium Weather, storm2k, Hardcoreweather, StormPulse (Matthew Wensing), , Mike's Weather Page, Greg Nordstrom, Gulf Coast Weather, American Weather - 28 Storms Ham Weather, Suncam TV (Streaming Video/cams), Robert Lightbown/Crown Weather Tropical Update

NOAA Weather Radio

Flhurricane Ustream Video Stream (Active only in certain events)

CFHC Weather Stations: Orlando (Universal) - Cocoa (Lake Poinsette) -
Even more on the links page.