August Revs Up
2:45PM EDT 18 August 2022 Update
The system near the Bay of Campeche is now being tracked as invest area 99L.
7:00AM EDT 18 August 2022 Update
The area currently over the Yucatan Peninsula of Mexico now has a 30% chance to develop. Convection is still fairly solid with this system over land, and when it moves into the Bay of Campeche in the Gulf, it has a small chance to reform and impact northern Mexico, and possibly extreme southern Texas. It won't have much time to organize, so it's likely going to just bring some rain. In combination with a front moving south, Texas may get a bit of rainfall relief this weekend.
Outside of this area nothing is expected to potentially develop in the next 5 days.
10:30PM EDT 16 August 2022 Update
The area in the west Caribbean having a decently large convection burst tonight, but proximity to land should keep it in check. This area currently still has a 20% chance for development over the next 5 days. The convection on satellite is mostly to the northeast of where the general center is thought to be.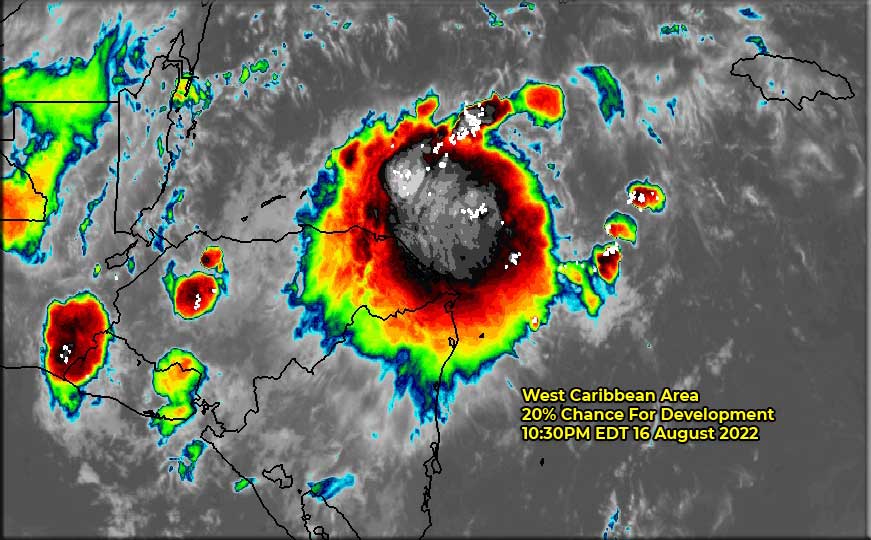 1AM EDT 16 August 2022 Update
After 98L and with increasing model support and real-time observations that tropical activity is warming back up in the Atlantic, a little title update from "August So Far Mostly Quiet" to "August Revs Up."
For all practical intents and purposes, 98L became a Tropical Cyclone right about at landfall. This has been a very quirky season, challenging forecasters far more than usual in both the short and medium to long range, and it seems that a few more systems than usual may already be marked for post-season reanalysis. Never wise to let the "low numbers" of the season-to-date give too much solace in any year, and definitely now that conditions for development basin-wide appear to be swinging back to a non-hostile state.
For comps, as recently as August 16, 2019 there were only three Tropical Cyclones to this date: Andrea, Barry and TD3, and yet that year went on to produce a total of 20 T.C.s, 6 Hurricanes, 3 of which were Majors. So far in 2022 we are at three Named TCs: Alex, Bonnie & Colin. Plus, three non-official systems have been tracked that perhaps at a minimum one of which gets verified as a T.C. in the post-season reanalysis.
With 98L pushing further west into northern Mexico and southwest TX/southeast NM, our eyes are turning back to the western Caribbean and western Gulf of Mexico, where a convectively active tropical wave has a chance to develop, perhaps especially so if, as expected by NHC, it crosses central America and enters the southwestern Gulf of Mexico by this weekend.
-Ciel
12PM EDT 14 August 2022 Update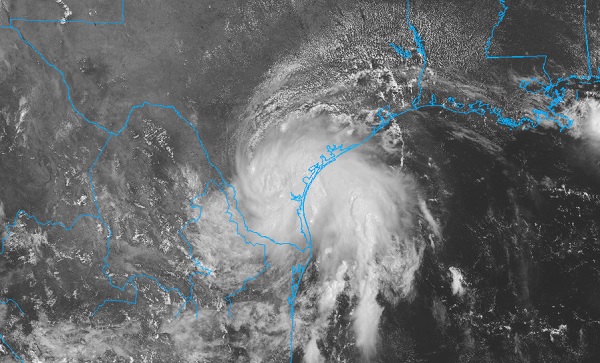 Above: Invest 98L at 11AM CDT Aug. 14, 2022
Invest 98L has moved inland near Corpus Christi, TX this morning and is of a status that a more relaxed definition of Tropical Depression easily applies. Light to heavy rainfall is copious and there are also a few embedded thunderstorms. Maximum sustained winds so far appear to be under 35 MPH, with some gusts to Tropical Storm force along the coast and just out to sea. Perhaps another candidate for post-season review.
The tropical low is expected continue pushing through south Texas and eventually into Mexico, where a second intensification phase is possible in response to orographic forcing. Dangerous and potentially life-threatening flooding and mudslides may occur in parts of deep south Texas and in particular extreme northeastern Mexico should 98L move rather slowly, or even stall at some point in the next few days.
-Ciel
1PM EDT 12 August 2022 Update
The area of low pressure in the Gulf we have been monitoring for a few days continues to show signs of increasing organization. While official odds are low and global model guidance is wanting, this system now bears closer monitoring, and we have started a Lounge on this feature that will likely also be Invest tagged soon.
-Ciel
Gulf Low Lounge
8AM EDT 12 August 2022 Update
An area, surface trough, first really noticed yesterday in the Gulf off of the coast of Louisiana now has a 10% chance for development, mainly because the time it will have over water isn't extremely long and a frontal system typically takes a while to get going. However, it is likely to bring rain to parts of Texas later this weekend. It is currently not tagged as an invest area.
Original Update
With the exception of 97L which has a 30% chance for development, the first part of August has been fairly quiet. It's likely that in the latter half of August this will change, but things are trending toward a climatological average season this year. However, only takes one large one, and with a great deal of extremely warm water in the Western Atlantic, it's important to watch closer to home this year since things can change quickly.
97L is likely to hit shear this weekend which will keep it in check, but it is still worth watching beyond that to see where things go, and as the season peak starts toward the end of the month.
In general this site will be updated when things happen, and won't be when things are quiet.
Invest 99L Event Related Links
SFWMD Model Plot (Animated Model Plot) SFWMD Hurricane Page

[https://flhurricane.com/floatanimator.php?year=2022&storm=4 Flhurricane Satellite Floater Animation of 99L
GOES Floater
Animated Skeetobite Model Plot of 99L


Clark Evans Track Model Plot of 99L (Animated!) Model Plots in Google Earth - In Google Maps
Clark Evans Intensity Model Plot of 99L (Animated!)
Clark Evans Top 10 Analog Storms for 99L
More model runs on from RAL/Jonathan Vigh's page
NRL Info on 99L -- RAMMB Info
COD Atlantic Satellite View


Texas Gulf Coast Links [http://moe.met.fsu.edu/~mnissenbaum/radar.html Mark Nissenbaum's radar page} East to West:
Houston/Galveston, TX Radar Radar Loop (Latest Static)
Corpus Christi, TX Radar Radar Loop (Latest Static)
Brownsville, TX Radar Radar Loop (Latest Static)
Gulf of Mexico Satellite Imagery
Area Forecast Discussions: Houston/Galveston, TX - Corpus Christi, TX - Browsnville/South Padre Island, TX

Tweets by cfhc