Into Mid August
Posted: 09:16 AM 07 August 2020 | | Add Comment
The Atlantic remains mostly quiet into Friday, but there is a new low chance development area being watched in the main development region (MDR) of the Atlantic between the Caribbean and Africa.
This wave only has a 10% chance for development right now. Of note though, it has strong rotation in some of the updraft towers along the northwest side, so it may be more resilient to hostile conditions than most waves, it'll be interesting to see if it persists. As of now, it has no invest designation.
Another wave east of this, currently around 29.1W is also worth watching longer term and may ultimately prove more interesting.
The typical season forecasts, CSU, NOAA, etc have adjusted upwards to an extremely active season. The most likely period of high activity starts around August 20-25th through about the same time in September, at that time the Atlantic likely will be unusually ideal for tropical systems. This is aligning with the traditional climatological peak of hurricane season also, which enhances the probability. So effectively conditions are extremely ripe, it does not mean they will happen, but most of the environmental conditions are in the positive for it to happen, so there's a chance basically any wave that shows up develops in that time period, and it could mean multiple tropical storms at once.
On top of this long range forecasts suggest that a strong high pressure ridge is likely to form in the last week or two of August, these typically block storms from recurving, and force them further west which means the chance for land impacts is also greater. This is for awareness to be vigilant this year, but trying to avoid hyping the situation. It's just the typical negative factors that reduce activity or land impact aren't as much of an issue this year.
This article will cover post-Isaias until the next major system that may arrives.
Josephine Event Related Links
Flhurricane Satellite Floater Animation of of Josephine - New for 2018


Animated Skeetobite Model Plot of Josephine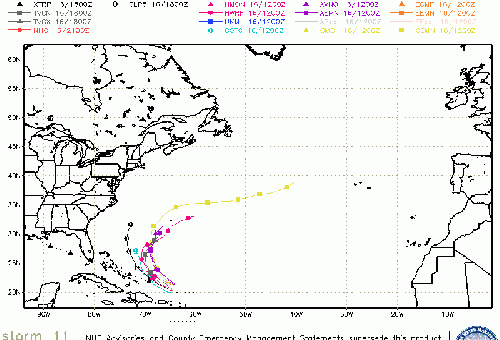 SFWMD Model Plot (Animated Model Plot) SFWMD Hurricane Page

Clark Evans Track Model Plot of Josephine (Animated!) Model Plots in Google Earth - In Google Maps
Clark Evans Intensity Model Plot of Josephine (Animated!)
Clark Evans Track Plot of Josephine
Clark Evans Top 10 Analog Storms for Josephine
More model runs on from RAL/Jonathan Vigh's page
NRL Info on Josephine -- RAMMB Info
COD Atlantic Satellite View


StormCarib Reports from the Caribbean Islands
Caribbean Weather Observations
Caribbean Broadcast Corporation (TV/Radio from Antilles)
San Juan, PR Radar Long Range Radar Loop (Latest Static) Base (Static) 1 HR Rainfall (Static) Storm Total Rainfall (Static)
Various Caribbean Radio Stations
DR1 Dominican Republic Hurricanes

Invest 96L Event Related Links

Flhurricane Satellite Floater Animation of of 96L - New for 2018


Animated Skeetobite Model Plot of 96L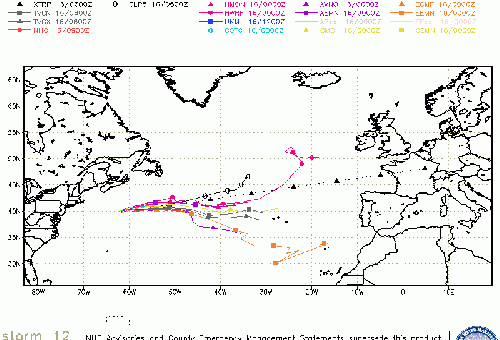 SFWMD Model Plot (Animated Model Plot) SFWMD Hurricane Page

Clark Evans Track Model Plot of 96L (Animated!) Model Plots in Google Earth - In Google Maps
Clark Evans Intensity Model Plot of 96L (Animated!)
Clark Evans Top 10 Analog Storms for 96L
More model runs on from RAL/Jonathan Vigh's page
NRL Info on 96L -- RAMMB Info
COD Atlantic Satellite View


Tweets by cfhc