November Waves and Lows
Posted: 02:59 PM 10 November 2018 | | Add Comment
12PM ET Update 16 November 2018
96L has been greenballed (reactivated for tracking), and is rapidly organizing into a well-defined area of low pressure today, centered at roughly 24N 74.5W as of 1500z. If current trends continue NHC would likely issue an update by the regularly scheduled 7PM TWO.
Additional tracking info and speculation on 96L is also available in the
96L Lounge
.
Original Entry
Above: Visible satellite of two areas of interest early morning Nov 10. Base map courtesy Weathernerds.org
A couple of unseasonably impressive waves in the Tropical Atlantic have the potential for some development next week, with steering currents that could push one or more near or over portions of the Greater Antilles, Bahamas and/or Bermuda.
The most impressive wave is presently located about 700 miles east of the Lesser Antilles, and has caught the attention of NHC as well as several of the better models for development - now at 40% within 5 days per NHC
Another feature, a trough centered about halfway between the above referenced wave and the Lesser Antilles, is not presently flagged by NHC for potential, but could be. Although models analyze conditions as less ideal for TC genesis than for the wave to its east, it is looking very impressive, suggesting that this disturbance is more vigorous and/or the environment is more conducive than models think.
Both of these features are likely to produce moderate to heavy showers and strong, gusty winds over populated portions of the SW Atlantic regardless of development.
This post will be updated with any Invest tags and TC numbers as warranted.
96L Event Related Links
Flhurricane Satellite Floater Animation of of 96L - New for 2018


Animated Skeetobite Model Plot of 96L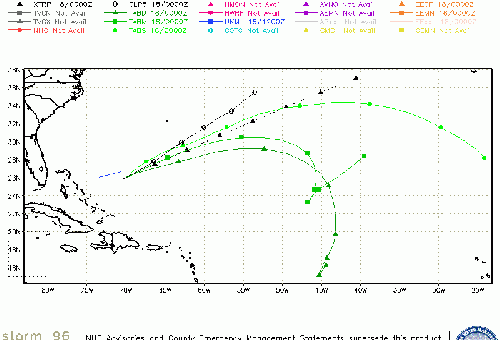 SFWMD Model Plot (Animated Model Plot) SFWMD Hurricane Page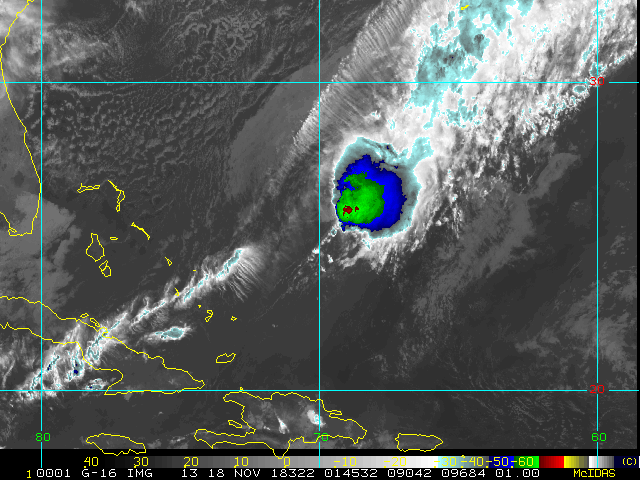 Clark Evans Track Model Plot of 96L (Animated!) Model Plots in Google Earth - In Google Maps
Clark Evans Intensity Model Plot of 96L (Animated!)
Clark Evans Top 10 Analog Storms for 96L
More model runs on from RAL/Jonathan Vigh's page
NRL Info on 96L -- RAMMB Info

Floater Satellite Images: Visible (Loop), IR (Loop), WV (Loop), Dvorak (Loop), AVN (Loop), RGB (Loop), Rainbow (Loop), Funktop (Loop), RB Top Loop)


Latest
Flhurricane Facebook Page
updates -
See More Updates...
Hurricane Leslie making a final run of it today - all the way to Portugal- while beginning to undergo merger with a front and extra-tropical transition. Leslie, it's been real. And a really long time reading your advisories..

General Links
Inside the Eye - Official National Hurricane Center Blog
Skeetobite's storm track maps
NRL-Monterey (Nice Tracking Maps and Satellite)
USNO Information on Current Storms (including Google Earth KMZ Files)

Experimental forecast storm probabilities from Dr. Alan Brammer

Goes 16 Satellite Images (new for 2017)
College of DuPage Animated Goes 16 loop of Gulf of Mexico

Large Color Southeast Satellite Image

Interactive Wundermap
San Jose State Models and More
Animated Earth Wind view of Tropical Atlantic

NOAA Historical Track Maps - Create your own tracking maps.

Check the Storm Forum from time to time for comments on any new developing system.

Follow worldwide SST evolution here: Global SST Animation - SST Forecast.

Storms From Previous Years (Unisys)

IR - Vis - WV - Loop - TWC IR - Color IR - Loop - SSTs - Buoy
NASA MSFC North Atlantic Visible (Daytime Only), Infrared, Water Vapor
LSU Sat images, RAMSDIS Satellite Images (rapid-scan imagery)
Full Western Hemisphere Sat Animation

Buoy Data, Dvorak Estimates

Caribbean Weather Observations

Some forecast models:
NHC/TAFB Experimental Gridded Marine Forecast

GFS, ECMWF (ECMWF) and ECMWF Tropical Tidbits model page (GFS + more)
FSU: CMC, GFDL, GFS, NOGAPS, HWRF; Phase Analysis
DoD Weather Models (NOGAPS, AVN, MRF)
GFS, RUC, ETA
FIM Model
American Weather/Raleighwx model page, Instant Weather Maps Models
Tropical Tidbits (Levi Cowan), Jeff Masters (Weather Underground) , Hurricanetrack.com (Mark Sudduth), Hurricane City (Jim Williams) , Mike Watkins / HurricaneAnalytics.com, WXRisk, TropicalAtlantic, Gary Gray's Millennium Weather, storm2k, Hardcoreweather, StormPulse (Matthew Wensing), , Mike's Weather Page, Greg Nordstrom, Gulf Coast Weather, American Weather - 28 Storms Ham Weather, Suncam TV (Streaming Video/cams), Robert Lightbown/Crown Weather Tropical Update

NOAA Weather Radio

Flhurricane Ustream Video Stream (Active only in certain events)

CFHC Weather Stations: Orlando (Universal) - Cocoa (Lake Poinsette) -
Even more on the links page.