Thursday Noon Update:
Models trended a bit northward this morning, making it somewhat less likely for Florida, still too far to say. Henri may want to make a small comeback as a depression before raining again on Southern Virginia. It may be a wildcard with Isabel too. Interesting setup.

Keep watching.

Thursday AM Update:
Looks as if Isabel has strengthened a bit more this morning, Dvorak numbers at 7.0 make it very close to a Category 5 storm. It's still moving west, the GFDL model has trended northward overnight, but its still too soon to tell.




Keep Watching folks.

Original Update:

Persistence... Models, ridge, and upper level low. Forward Speed, intensity.

All of these are on the mind as we look at Isabel, the story tonight. Last night I made the quick prediction that it would turn out to sea, but I now believe I am wrong on that, or at least the chance of it recurving isn't nearly as great as I believed.

Isabel is a very strong Category 4 storm, it may fluctuate in intensity, but I expect it to remain a major for a while. This could change next week as it gets closer, but all along the Southest East coast (florida to the carolinas) and Bahamas need to be watching this through next week. Will it go here or there? I can't answer that.

The ridge to the north as well as the low to the west of it are directing the storm as of now. It's moving westward and it'll keep that motion for the next couple of days. After that I think it will start to move northward, and the old "when will it turn" dilemma will show up. Will it make it to Florida? Will it head toward the carolinas, will it go out to sea? We don't know yet.

I don't think it will go into the gulf, if that makes any difference to all. I do think it will weaken some and then regain strength as it gets closer to land. I do expect the unexpected, so all of it could be wrong.

Persistance...
Models have been flip flopping, earlier it was more south, now its more to the north. I expect tomorrow it will be further south again. When Recon gets into the storm friday afternoon we may see changes for models Saturday. Watch it then. The shape of the storm is also important to watch, if it gets stretched more north-south then a turn is more likely.

Models...
Look at the links below for models, they are all fairly closely clustered, so its farily persistant. Minor variations aren't important the trend they take is more. Use them but don"t abuse them.

Ridge
The ridge above the storm is keeping it moving westward now. It could weaken as it gets closer to the west and move it more north-northwestward. The other is that the ridge holds and keeps it moving further west toward florida. Both can happen, I'm leaning toward somewhere in the middle. The weather channel favors keeping it moving west, I think it'll turn toward the end. Verdict: Hung jury, wait until the weekend.

Upper Low
Watch the upper low to the west of the storm, Isabel is likely to follow mainly in its wake, and it also will have some sort of effect on the ridge as well. Remnants of Henri also will mess with things.

More importantly ignore the forecasts for now and watch, see where it goes, take what you can find and take the word of the NHC over any of us. Anything referencing next week is just a guess until we get closer. It is important to note that I do think the chance of a US landfall is highly likely with Isabel.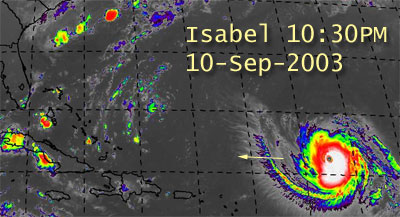 For Isabel I'll be attending the site much more than normal over the next few days. And updating articles as needed and making new ones.

Think I'm wrong? See something I'm missing? You are probably right. Add a comment and we'll discuss.

NRL Monterey Marine Meteorology Division Forecast Track of Active Systems (Good Forecast Track Graphic and Satellite Photos)

The Caribbean Hurricane Page - updates from the islands

More discussion on the storm on our Storm Forum.

NASA GHCC Interactive Satellite images at:

North Atlantic Visible (Daytime Only), Infrared, Water Vapor

Some forecast models:
NGM, AVN, MRF, ETA ECMWF


DoD Weather Models (NOGAPS, AVN, MRF)
AVN, ECMWF, GFDL, MM5, NOGAPS, UKMET

Multi-model plots from WREL

Other commentary at Mike Anderson's East Coast Tropical Weather Center, Robert Lightbown/Crown Weather Tropical Update Accuweather's Joe Bastardi (now subcriber only unfortunately), Cyclomax (Rich B.), Hurricane City , mpittweather , Tropical Weather Watchers.Com (JasonM) Gary Gray's Millennium Weather, Barometer Bob's Hurricane Hollow, Snonut,
Even more on the links page.

- [mike@flhurricane.com]