The Atlantic after Michael
Posted: 04:49 PM 14 October 2018 | | Add Comment
Hurricane Michael will be one remembered for years to come for this decade for Florida. Although Irma, Matthew and Hermine (The other 3 hurricanes, and only ones from the decade) will be remembered, the raw violent nature of Michael will put that at the top, along with its impacts well inland. Post analysis may bring it up to Category 5 after all is said and done. Callaway, Tyndall, Mexico Beach, Cape San Blas and Panama City within Gulf and Bay counties are forever changed, as many areas around ti were also.
Our twitter feed is full of examples and response to it.
Beyond that Leslie made landfall in Portugal and brought damage to there, very unexpectedly.
Two low-chance areas are being watched, a 20% area in the West Caribbean (94L) and another area in the Central Atlantic with 10%. Neither have much model support, but there is a possibility for one or two more systems this season before all is said and done.
94L Event Related Links
Flhurricane Satellite Floater Animation of of 94L - New for 2018


Animated Skeetobite Model Plot of 94L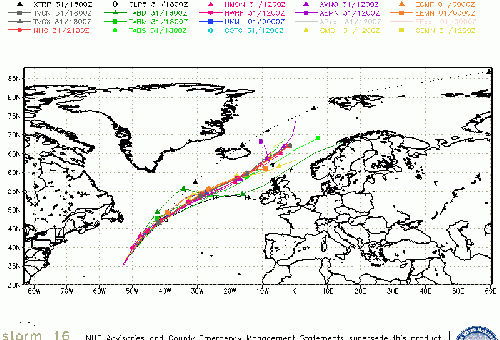 SFWMD Model Plot (Animated Model Plot) SFWMD Hurricane Page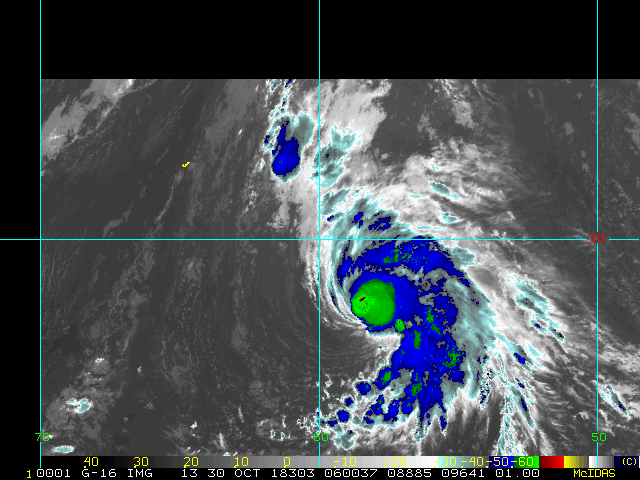 Clark Evans Track Model Plot of 94L (Animated!) Model Plots in Google Earth - In Google Maps
Clark Evans Intensity Model Plot of 94L (Animated!)
Clark Evans Top 10 Analog Storms for 94L
More model runs on from RAL/Jonathan Vigh's page
NRL Info on 94L -- RAMMB Info

Floater Satellite Images: Visible (Loop), IR (Loop), WV (Loop), Dvorak (Loop), AVN (Loop), RGB (Loop), Rainbow (Loop), Funktop (Loop), RB Top Loop)


Latest
Flhurricane Facebook Page
updates -
See More Updates...
Hurricane Leslie making a final run of it today - all the way to Portugal- while beginning to undergo merger with a front and extra-tropical transition. Leslie, it's been real. And a really long time reading your advisories..

General Links
Inside the Eye - Official National Hurricane Center Blog
Skeetobite's storm track maps
NRL-Monterey (Nice Tracking Maps and Satellite)
USNO Information on Current Storms (including Google Earth KMZ Files)

Experimental forecast storm probabilities from Dr. Alan Brammer

Goes 16 Satellite Images (new for 2017)
College of DuPage Animated Goes 16 loop of Gulf of Mexico

Large Color Southeast Satellite Image

Interactive Wundermap
San Jose State Models and More
Animated Earth Wind view of Tropical Atlantic

NOAA Historical Track Maps - Create your own tracking maps.

Check the Storm Forum from time to time for comments on any new developing system.

Follow worldwide SST evolution here: Global SST Animation - SST Forecast.

Storms From Previous Years (Unisys)

IR - Vis - WV - Loop - TWC IR - Color IR - Loop - SSTs - Buoy
NASA MSFC North Atlantic Visible (Daytime Only), Infrared, Water Vapor
LSU Sat images, RAMSDIS Satellite Images (rapid-scan imagery)
Full Western Hemisphere Sat Animation

Buoy Data, Dvorak Estimates

Caribbean Weather Observations

Some forecast models:
NHC/TAFB Experimental Gridded Marine Forecast

GFS, ECMWF (ECMWF) and ECMWF Tropical Tidbits model page (GFS + more)
FSU: CMC, GFDL, GFS, NOGAPS, HWRF; Phase Analysis
DoD Weather Models (NOGAPS, AVN, MRF)
GFS, RUC, ETA
FIM Model
American Weather/Raleighwx model page, Instant Weather Maps Models
Tropical Tidbits (Levi Cowan), Jeff Masters (Weather Underground) , Hurricanetrack.com (Mark Sudduth), Hurricane City (Jim Williams) , Mike Watkins / HurricaneAnalytics.com, WXRisk, TropicalAtlantic, Gary Gray's Millennium Weather, storm2k, Hardcoreweather, StormPulse (Matthew Wensing), , Mike's Weather Page, Greg Nordstrom, Gulf Coast Weather, American Weather - 28 Storms Ham Weather, Suncam TV (Streaming Video/cams), Robert Lightbown/Crown Weather Tropical Update

NOAA Weather Radio

Flhurricane Ustream Video Stream (Active only in certain events)

CFHC Weather Stations: Orlando (Universal) - Cocoa (Lake Poinsette) -
Even more on the links page.