Late July Activity
8:30 AM EDT 25 July 2021 Update:
The system east of Florida (90L) still has a 50% chance for development. In this case the circulation is well defined, but it lacks convection, as lot has been shared off. Thus a fairly dry system, but it is capable of enhancing afternoon showers. It likely will eventually drift over Florida, and barely be noticeable other than the breeze.
What could change (even if unlikely) is it developing convection near the center that persists and expands. Conditions are very borderline for that to happen, so it's more of a wait and see, even if it does, there is not much time for it to organize. So the most likely outcome is that the circulation moves over Florida barely noticed.
Original Update:
For the end of July, a new area off the southeast coast of the US (Invest 90L) has about a 40% chance for development over the next 5 days or so, as this surface trough sits near or over the Gulf Stream for the next few days.
Parts of the system may drive up rainfall quite a bit over the weekend in parts of Florida, especially in South Florida where it may be enough to cause some flooding rainfall when the interaction of seabreeze storms kick in.
The rain likely will impact more of central and North Florida/GA later in the weekend into Monday. If the system develops it could be a tropical/subtropical system if aided enough by the warm gulf stream waters, working against it is northwesterly shear of about 20-25 knots.
Future models suggest it may meander of the same area and either slowly drift southwest over Florida or move into South Carolina, causing a lot of rain when it does. It's something to watch over the next several days.
If this manages to develop, the next name on the list is Fred. Recon aircraft are tentatively scheduled to investigate tomorrow.
Forecast lounge for 90L
Invest 90L Event Related Links
Flhurricane Satellite Floater Animation of of 90L - New for 2018


Animated Skeetobite Model Plot of 90L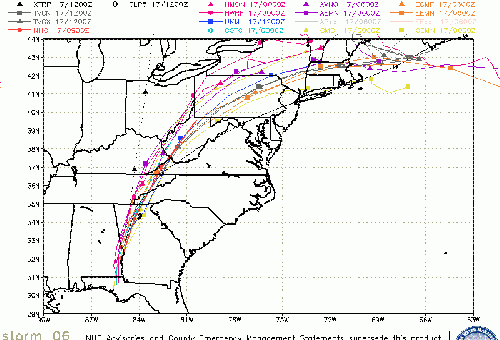 SFWMD Model Plot (Animated Model Plot) SFWMD Hurricane Page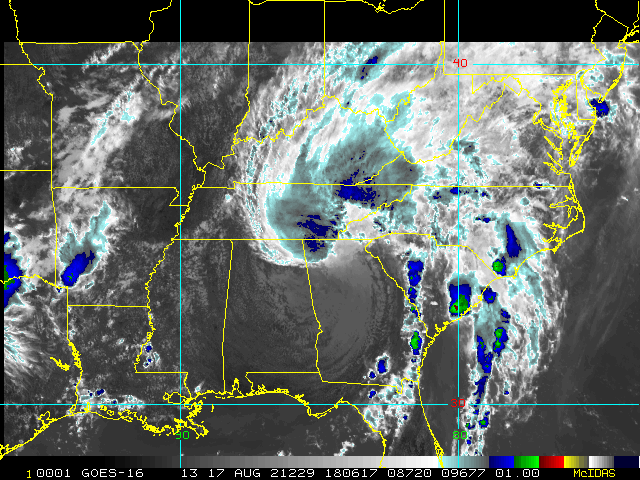 Clark Evans Track Model Plot of 90L (Animated!) Model Plots in Google Earth - In Google Maps
Clark Evans Intensity Model Plot of 90L (Animated!)
Clark Evans Top 10 Analog Storms for 90L
More model runs on from RAL/Jonathan Vigh's page
NRL Info on 90L -- RAMMB Info
COD Atlantic Satellite View


East Florida Links Southeast Composite Radar Loop (Latest Static) South to North:
Key West, FL Radar Long Range Radar Loop (Latest Static) Base (Static) 1 HR Rainfall (Static) Storm Total Rainfall (Static)
Miami, FL Radar Long Range Radar Loop (Latest Static) Base (Static) 1 HR Rainfall (Static) Storm Total Rainfall (Static)
Melbourne, FL Radar Long Range Radar Loop (Latest Static) Base (Static) 1 HR Rainfall (Static) Storm Total Rainfall (Static)
Jacksonville, FL Radar Long Range Radar Loop (Latest Static) Base (Static) 1 HR Rainfall (Static) Storm Total Rainfall (Static)

Caribbean/South East Coast Satellite Imagery

SFWMD Radar Loop of South Florida with storm Track

SFWMD Full Florida Radar Loop with Storm Track

Area Forecast Discussions: FLorida Keys - Miami/South Florida - Melbourne/East Central Florida - Jacksonville/Northeast Florida -

Tweets by cfhc