Late Season Activity Heating up Close to Home
2:30AM CDT 28 October 2020 Update
Zeta could be undergoing Rapid Intensification tonight. Recon is on the way, and we should know within a few hours just how much stronger the hurricane has already become. On satellite it has the appearance of a tropical cyclone that wants to Major.
Interests in southern and southeastern Louisiana should be rushing preparations to protect life and property to completion, as deadly storm surge and vicious wind is just hours away.
5:30AM EDT 26 October 2020 Update
Recon continues to find Zeta rapidly intensifying this late overnight/predawn morning, and a direct impact from a formidable hurricane on the northeastern Yucatan looks likely, especially with conditions favoring further intensification until landfall.
Before midweek, Zeta will probably recurve and head north or north-northeast ahead of an ejecting trough now over the southwest. This will act to accelerate Zeta's forward speed so that there shouldn't be much in the way of upwelling. While some weakening from traveling over the Yucatan may make it a little harder for Zeta to rapidly intensify back up before making landfall along the US gulf coast, models that have digested all the recent additional data suggest that the cyclone could pull it off, and locations from Louisiana to northwestern Florida may want to begin preparing for a strong hurricane.
Original entry
4:30PM EDT 24 October 2020 Update
Recon has found just enough organization for Invest 95L to qualify as a TD, and NHC advisories are being issued. Interests in the north-northwest Caribbean and north-northeast Gulf of Mexico may want to begin paying close attention.
Conditions for development in the western Atlantic are going up this week and forecast to remain at least somewhat favorable in spots for a while. Given that we are in a record-setting hyperactive season that started early and may very well end late, and with several additional disturbances possible over the next few weeks, this region, much closer to home, deserves more attention than usual at this time of year.
Today, October 23rd, we are watching a vigorous disturbance in the Caribbean that has rapidly pulled itself together in just the past 18 hours, Invest 95L. This Low may become a Tropical Cyclone as soon as later today or tonight, and interests from Cuba to the Yucatan, S Florida, the Keys, and maybe the Bahamas or even the north central Gulf, may want to begin following closely.
Recon is scheduled to fly 95L tomorrow. It is possible that they will find a Tropical Storm at that time. The next Greek name on the list to be used is Zeta, and would tie 2005 for the most named storms at twenty-seven. 2005 also had an unnamed storm added post-season, for a total of 28 cyclones with sustained winds at or above 39 MPH.
Elsewhere, Hurricane Epsilon is now heading out to sea, but may become a very powerful post-tropical cyclone while approaching Europe next week.
Mississippi/Alabama Gulf Coast Media/Links
Newspapers
Mobile Register (Al.com) paper
Radio (some)
News Talk 104.9 Biloxi, MS (Radio)
News talk 106.5 Mobile, AL (Radio)
Power Outage
Alabama Power Outage Map

Zeta Forecast Lounge

Zeta Event Related Links

Flhurricane Satellite Floater Animation of of Zeta - New for 2018


Animated Skeetobite Model Plot of Zeta

SFWMD Model Plot (Animated Model Plot) SFWMD Hurricane Page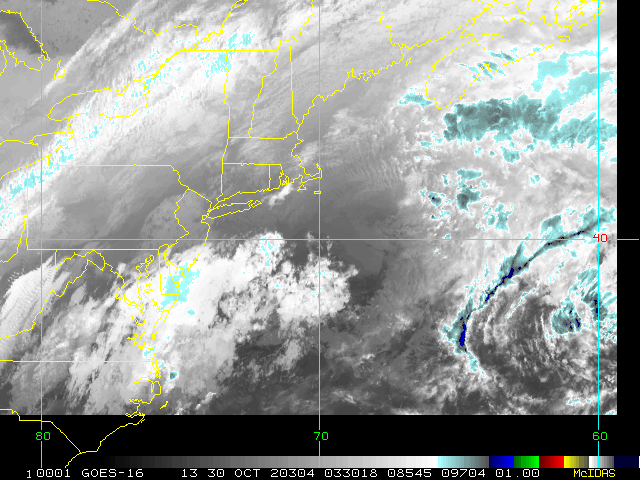 Clark Evans Track Model Plot of Zeta (Animated!) Model Plots in Google Earth - In Google Maps
Clark Evans Intensity Model Plot of Zeta (Animated!)
Clark Evans Track Plot of Zeta
Clark Evans Top 10 Analog Storms for Zeta
More model runs on from RAL/Jonathan Vigh's page
NRL Info on Zeta -- RAMMB Info
COD Atlantic Satellite View


Tweets by cfhc